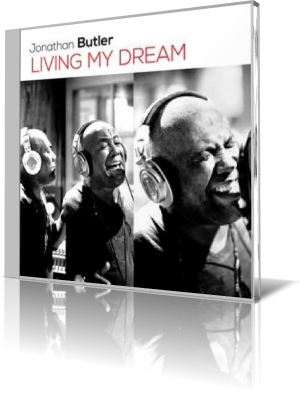 South African icon Jonathan Butler is an elemental force of the stage. Where he performs the fire of entertainment burns. His fellow musicians love his vibrancy. They like to follow his call, when it comes to a new album.
Jonathan shouted out for support and they all came. In the liner notes are mentioned George Duke, Marcus Miller, Elan Trotman, Katisse Buckingham and a lot more.
Living My Dream (2014) is a concept album including the most important moments of his life. The journey begins with African Breeze, a soundtrack Butler recorded together with Hugh Masekela for the movie The Jewel of the Nile. A brilliant piece of South African pop jazz jive featuring Butler on nylon string guitar.
The title song is a musical description of his life with all the ups and downs. A devotional reflection full of thankfulness for God given gifts. The making of Be Still tell us, what is important in life. Friendship. George Duke spent some of his precious hours with Jonathan in his wine cellar before they recorded this song with Duke on piano.
Let There Be Light is a wonderful song, which Jonathan co wrote together with bass legend Marcus Miller. Elan Trotman rounds it up with nice sax blows. On Heart and Soul Butler shows his emotional power as outstanding singer. With Song for You Butler takes a little detour to reggae land.
Catembe is a place nearby Maputo, Mozambique with an awesome view over the ocean side. An African flavored piece with Butler's unique guitar sound well rounded by the horn arrangement sets this location a monument.
With Night to Remember and All About Love Butler builds family ties to his daughter Jodie and his wife. These pieces are for those who loves his vocal R&B side. Sweet Serenade was the first track Butler wrote for his new album. It encompasses everything that makes the master guitarist. Personally, I especially love the first part of the piece, in which the accompanying instrumentation not yet come to the fore.
The album comes with A Prayer to an end. Discreetly Butler cites his origins with the pot drum percussion, but keeps the mood in the hand of his nylon guitar. When strings, church clock and the vocals of Jodie and Jonathan Butler come into play, the piece is climbing up the sky ladder.
Jonathan Butler's blend of South African music with smooth jazz, R&B and Gospel makes Living My Dream so unique. This constitutes the outstanding status of this musician with a high recognition value.




Biography

Website

Buy the album in all stores

Album Information

Title: Living My Dream
Artist: Jonathan Butler
Year: 2014
Length: 0:44:27
Genre: General Jazz
Label: Artistry Music

Tracks:
01 African Breeze [4:07]
02 Living My Dream [4:02]
03 Be Still [4:49]
04 Let There Be Light [4:11]
05 Heart and Soul [3:37]
06 Song for You [3:27]
07 Catembe [3:47]
08 Night to Remember [3:44]
09 All About Love [4:04]
10 Sweet Serenade [4:38]
11 A Prayer [4:01]