Till Brönner – Midnight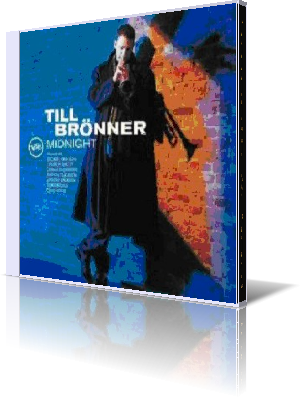 German born trumpet player Till Brönner started his solo career in an age of 20 years with the album Generations of Jazz featuring Ray Brown, Jeff Hamilton, Frank Chastenier and Gregoire Peters (1993). Further albums are My secret Love (1995), German Songs (1996), Midnight (1997), Love (1998), Chattin with Chet (2000), Jazz Seen (2001), Blue Eyed Soul (2002), That Summer (2004), Höllentour (2004), Oceana (2006), The Christmas Album (2007), and Rio (2008).

As a young musician Till succeeded in enlightening such musicians as Michael Brecker, Dennis Chambers and David Mann for his project Midnight. The album was realized and financed by Uwe Buschkötter, a former jazz musician. Till Brönner presented a new sound and a funky, American studio style of the nineties, while rooted in the jazz modernism. With own compositions and cover versions of Marvin Gayes What's Going On and Stevie Wonder Don't You Worry 'Bout A Thing, he continued his soulful repertoire of accents.

The album was recorded in the Power Station, the current Avatar Studios, one of the first addresses in the city of NY, in several phases between September 1995 and May 1996. Although the album received high acclaims after its release in spring 1997, it was not selling well perhaps caused by a lack of promotion or it wasn't the right time for that type of contemporary jazz in Germany. Anyway Verve/Universal bought the rights and fortunately re-issued the album this year. A real opportunity to discover this gem of the past.
The album starts with Marvin Gaye's popular song What's Going On. The song was arranged and produced by keyboardist George Whitty. The excellent musicianship of Michael Brecker, Till Brönner and more creates the fantastic atmosphere of one of the hottest tune of that year and the spell bounding effect isn't faded away.
The title tune was composed by Till and Stefan Raab, Germany's top TV presenter, composer, singer and entertainer. The unsurpassable mood is compiled by Till, George and the RIAS Big Band Brass. At the age of only 20 Till Brönner became solo trumpet player of the renowned RIAS Big Band Berlin under Horst Jankowski and Jiggs Whigham.
Little Giant's Talking showcases Till Brönner, David Mann and Dean Brown in best conditions. On a shuffle beat this trio expands their top notch talents. On Highway To Heaven Till meets wah-guitarist Ingo Cramer, another member of the RIAS Big Band. Till's muted trumpet enjoys vibrant independent existence.
Reporting From Rangoon is a further collaboration of Till with world-renowned George Whitty. George recorded with Mike Catalano (Manhattan Affair), Richard Bona (Munia: The Tale), Mike Phillips (Uncommon Denominator), Michael Brecker (Wide Angles), Randy Brecker (34th N Lex) and a lot more. On this song Till shows his great improvisational skills.
Stevie Wonder's Don't You Worry 'bout A Thing finds an instrumental rebirth on Till's trumpet. The best and jazziest cover I ever heard of Stevie's megahit from his album Innervisions (1973). In The Meantime penned by David Mann starts with muted trumpet leading into a flugelhorn and trumpet excursion. Till not just performs the melody but decorate it with numerous improvisations.
Check That follows the funky guitar presentation of the previous tune. Stefan Raab, Till's classmate in earlier times, delivers creative inputs for a genius melody. The contemplative Tribeca features David Mann and Till Brönner in changing and exchanging contributions. Ned Mann's bass and David's keys are underlining the moody environment.
Multi-instrumentalist Jimi Tunnell, a part-time member of Mike Mainierie's Steps Ahead, is the propelling part and composer of Racer. What shall I praise at first? The perfect arrangement? The intelligent choice of instruments? The mesmerizing performance? A real masterpiece.
I don't want to annoy you with the platitude of a drive on the Ocean Avenue but Morning Ride has much of that feeling. Till combines this relaxing attitude with his own profile of high professionalism. Waiting is the final expression of fine contemporary jazz art.
Till Brönner's Midnight is one of those rare albums which I can put in my player again and again. What I don't understand is the fact that Till doesn't perform that style on further albums. Is he too shy to copy his masterwork?





- Website



Buy the album




Album Information

Title: Midnight
Artist: Till Brönner
Year: 1997/2009
Length: 1:01:41
Genre: Smooth Jazz
Label: Universal Music


Tracks:

01 What's Going On [7:30]
02 Midnight [4:26]
03 Little Giant's Talking [5:01]
04 Highway To Heaven [4:05]
05 Reporting From Rangoon [5:25]
06 Don't You Worry 'bout A Thing [6:31]
07 In The Meantime [5:30]
08 Check That [3:43]
09 Tribeca [5:24]
10 Racer [5:57]
11 Morning Ride [3:56]
12 Waiting [4:12]