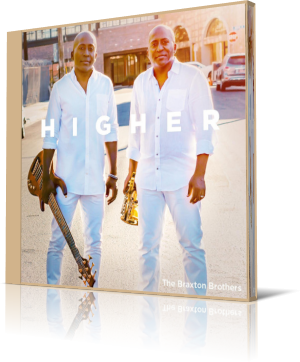 Originally from San Francisco now based in San Diego the Braxton Brothers are the twins Nelson (bass) and Wayne Braxton (sax). They started their career with the debut album Steppin' Out in 1996. Now and Forver followed in 1999, then Both Sides (2002), Rollin' (2004) and True Love (2013).
Their new album Higher (2018) is exclusively their joint work. They wrote, produced and played all pieces themselves. Nelson performs bass (rhythm and lead), keyboards, percussion, drum programming, electric and acoustic guitar. Wayne handles saxophones, drum programming and background vocals. Chris Camozzi, Errol Cooney, Kay-Ta Matsuno, Ryan Parrino and Andy Quinn perform guitars on selected tracks.
Their impetus is to create music that make people feel good. The first tune of the album The Only Woman in the World was written by Nelson after a concert with Michael Bolten sitting in the touring bus during a Minnesota blizzard before he could return to his family and is a tribute to his beloved wife.
You Care About Me also alludes to this family relationship with great emotionality. A memorable melody is the most important factor to touch the listeners. We all share the twin's opinion. Back in My Arms describes with a lot of empathy the moment of reunion after a long separation. A feeling that is not alien to the brothers, as they are often on tour.
The uplifting tune Higher collects points with the best elements that smooth jazz has to offer. The brothers understand each other as only twins can understand themselves. Something in My Heart is a meticulous example of how they harmonize with each other.
Because of You represents bass and saxophone in balanced resonance. A Stronger Love starts with Wayne's sonic storytelling on sax before Nelson sits in on bass in the second half of the tune. Beauty rides on the Reggae wave in the style of Bob Marley with a religious momentum.
The energetic Where I Wanna Be shows the rocky side of the twins. On Just to Be Loved comes romantic to light. The love ballad What Would I Do catches the female audience with great R&B flavor. Final tune is I'll Be Here, who gently brings the album to a close.
The Braxton Brothers move with Higher in the familiar environment of smooth jazz. They compose and perform their pieces with great enthusiasm and experience. Of course, they both know what is important and they implement it skillfully.




Buy the album in all stores

Album Information

Title: Higher
Artist: The Braxton Brothers
Year: 2018
Genre: Smooth Jazz
Label: Braxton Productions

1 The Only Woman in the World 3:37
2 You Care About Me 3:42
3 Back in My Arms 3:16
4 Higher 2:55
5 Something in My Heart 5:35
6 Because of You 3:02
7 A Stronger Love 4:14
8 Beauty 3:36
9 Where I Wanna Be 3:58
10 Just to Be Loved 3:52
11 What Would I Do 3:37
12 I'll Be Here 3:19