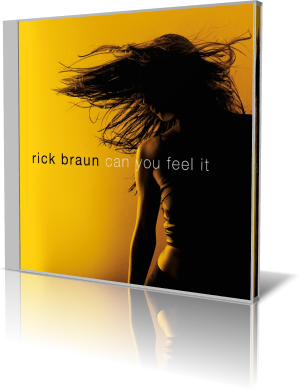 We all like Rick Braun as crooner of jazz standards on Sings With Strings (2011) and Swingin' In The Snow (2012). But what we really love is Rick Braun, the funky trumpet player known by Night Walk and Beat Street. Rick Braun has heard our request and returns with Can You Feel It (2014).

Rick comments꞉ "It's a return to the sound and style of Beat Street, which essentially was a tribute to my years playing in War. I took out all of the sequencing with one exception and made the record like a garage band using great live players. It was a lot of fun making the record. It's energetic and earthy. We hit it hard—kind of like Tower of Power—capturing the energetic, funky horn band sound. I wanted lots of horn section parts on the album."

Below you find the list of 21 (!) musicians joining Rick on this new project. Much prominence mingles with the young lions who want to impress with their skills. Take the funk of the Commodores and the Gap Band and you get the right sense for Can You Feel It. There is a huge package of horns by Rick Braun (trumpet, valve trombone) and Brandon Fields (sax) and Randy Jacobs inserts his sooo funky guitar.

Back To Back is a nifty piece that represents the reverb as a stylistic moment in the spotlight. Exceptionally well I also like the cover version of Take Me To The River, which makes gifted singer Elliot Yamin his own. While on Al Green's original the Memphis horns took the brass part, Rick Braun and Euge Groove let off steam on this rendition.

Last year Braun played on the Mallorca Smooth Jazz Festival. Accompanied by his wife, Christiane, he spent beautiful days on the island. This inspired him to the waving song Mallorca. The hooky song Get Up And Dance features Dave Koz on sax. With such energy the song is destined for the first single release.

The specialist for moody flair Philippe Saisse wrote the melancholic ballade Another Kind Of Blue. Who if not Rick Braun on flugelhorn fills this melancholy with life? Braun calls Delta a quintessential horn-funk song. Jeff Lorber lets the game field free for Braun's expanded trumpet performance.

Silk exudes an overflowing cornucopia of a dreamy melody. Radar offers a straightforward piece of music on a brisk pace. The Dream is another song for cruising. Dr. Funkenstein is not a cover of George Clinton's funk opus but a composition by Braun and Nate Phillips. Jointly with the namesake is the first-class funk.

Compared to Rick Braun's earlier releases Can You Feel It rises the level of high energy, what makes this album to the hottest funk album this year. The same time it also offers other fine nuances, which increases its outspoken versatility.




Album Information

Title: Can You Feel It
Artist: Rick Braun
Year: 2014
Genre: Smooth Jazz
Label: Artistry Music


Tracks:
1. Can You Feel It [4:06]
2. Back To Back (featuring Brian Culbertson) [4:27]
3. Take Me To The River (featuring Elliot Yamin and Euge Groove) [4:35]
4. Mallorca [4:08]
5. Get Up And Dance (featuring Dave Koz) [4:25]
6. Another Kind Of Blue [4:57]
7. Delta [4:11]
8. Silk [5:35]
9. Radar [3:52]
10. The Dream [4:38]
11. Dr. Funkenstein [4:13]

Rick Braun – trumpet (1-5, 7, 9, 11), valve trombone (1-4, 7, 9-11), flugelhorn (4, 6, 8, 10), keyboards (10-11)
Brian Culbertson – piano (2)
Phil Davis – keyboards (2)
Brandon Fields – tenor and baritone sax (1, 7, 9), baritone sax (3, 11)
Mike Finnigan – Hammond B3 (3)
Richard Freemont – flute (4, 10)
Jon Gilutin – Hammond B3 (1, 11)
Sergio Gonzalez – drums (11)
Euge Groove – tenor sax (3, 11)
Adam Hawley – guitar (2, 4-5, 8-10)
Randy Jacobs – guitar (1, 3, 6, 11)
Nathaniel Kearney, Jr. – bass (1, 4, 5-10), additional bass (3)
Dave Koz – tenor sax (5)
Braylon Lacy – bass (2)
Jeff Lorber – keyboards and guitar (7, 9)
Tony Moore – drums (7)
Nate Phillips – bass (11)
Frank (Third) Richardson – drums (1-6, 8-10)
Philippe Saisse – keyboards (1, 4-6, 8)
Freddie Washington – bass (3)
Elliot Yamin – vocals (3)
Ramon Yslas – percussion (1-11)




Further reviews
Sings With Strings

Sessions Vol. 1