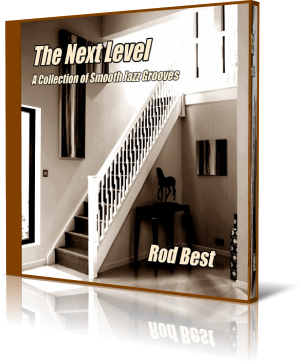 Hailing from Gayndah, Queensland in Australia multi-instrumentalist Rod Best is an unknown factor for most smooth jazz fans. On the other hand, there are an enormous number of musical albums waiting to be discovered.
Listed on CDBaby are among others Best Of Smooth (2015), The Best of Christmas (2015), The Best of Rod Best (2016), A Peaceful Place (2018), and The Next Level (2019). In addition you find on his website the album Groove On (2018).
The album presents with The Next Level Rod Best striking of the piano keys to a sound-generating melody grabbing your attention immediately with power and conviction.
Comin' Home Baby is a song originally written by Ben Tucker. The most popular covers are by Herbie Mann and jazz singer Mel Tormé. Rod sets his own powerful accents on his interpretation. Left Alone Again reveals Rod's romantic vein showcasing his high infectious piano tinkle perfectly underlined with reverb effects.
Virtually flawless and beautiful the audience is impressed by Breathin' Smooth, an organic celebration of smooth jazz. Summertime is a jazz classic aria composed in 1934 by George Gershwin for the 1935 opera Porgy and Bess. Rod approaches the familiar tune in a laidback bravura that resembles Bob Baldwin's piano style.
Night Groove leaves nothing to be desired in the melodic field. When selecting the accompanying instruments Rod likes to use the sound archive of his keyboard. Australians apply the term Cruisy for something easy-going and that is also the tendency of this piece.
Django is a harmonic rendition of a movie score of the big Western. Softly As A Morning Sunrise by Sigmund Romberg and Oscar Hammerstein II is from the 1928 operetta The New Moon. Rod rises the tempo to make his rendition more attractive. Gentle Wave is a keen interplay between different keyboard sounds with accessible sonic magic.
The aptly titled Playing Sweetly expands Rod's concept of a multi-instrumentalist to nearly mellifluous perfection. When I Fall In Love is a popular song, written by Victor Young (music) and Edward Heyman (lyrics). It was introduced in the film One Minute to Zero (1952). Rod takes the melody with a lot feeling of intimacy.
How Insensitive is a Bossa nova song composed by Brazilian musician Antônio Carlos Jobim. Rod brings an multi-instrumental bent to this tune from deep within his own heart. Think Positive is not only the title but also the appropriate tonal implementation.
Rod Best's album The Next Level is a memorable matter truly dear to his heart. The best that can be achieved with the limited possibilities as a multi-instrumentalist and you can tell that Rod has a knack for beautiful compositions.




Buy the album in all stores

Album Information

Title: The Next Level
Artist: Rod Best
Year: 2019
Genre: Smooth Jazz
Label: Independent

1) The Next Level (4:26)
2) Comin' Home Baby (3:09)
3) Left Alone Again (4:32)
4) Breathin' Smooth (4:07)
5) Summertime (4:51)
6) Night Groove (4:31)
7) Cruisy (4:54)
8) Django (3:18)
9) Softly As In A Morning Sunrise (4:57)
10) Gentle Wave (3:15)
11) Playing Sweetly (5:18)
12) When I Fall In Love (6:50)
13) How Insensitive (4:20)
14) Think Positive (4:09)