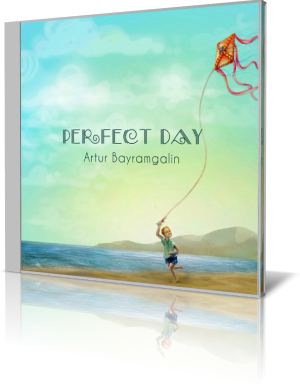 Multi instrumentalist Artur Bayramgalin is rather unknown in the American smooth jazz scene. It isn't up to the music, his performance and style is brilliant. His debut album Interro Island came out in 2009, his sophomore album Electric Breezz followed in 2010. Perhaps something changes with his third album Perfect Day (2014).
I was somewhat surprised, because I did not receive a CD but an album in MP3 format. Anyway, the music is excellent and somehow it comes to the listener. Hopefully on a legal way. But this is another story.
Chris Peak writes in the Huff Post "Most bands will now give their music away for free in the hope that you'll like them enough to see them live." With Ufa in Russia as hometown and as an independent artist it is difficult for Artur to tour in USA in support of his own music. Furthermore with no liner notes inside it's impossible to give the reader additional information.
Artur Bayramgalin uses the internet for viral promotion of his new album offering videos, soundtracks and more. I encourage the interested reader to google this range. The introductory song Perfect Day captures the children's laughter and crystal-clear piano sounds of a warm summer day. Comparing his music to the likes of Richard Clayderman, Dan Siegel or David Lanz is allowed with consideration for the specific differences.
With Enisey breaks the dark Russian soul out of the artist before everything dissolves into pleasing flute tones. A new chapter of world music. Reminiscence brings some Spanish flair with jazzy guitar intonation into play. Ingeniously he mixes in Indian elements. He skillfully uses a shuffle beat to realize his musical message in Butterfly. Third Force is in the air.
Over The Clouds takes us into African plains before we are surrounded by beautiful guitar sounds. At the end even Country Fiddles and Indian flutes reach us. We are all in one world. Daydreamer gives us time for some reverie with charming keyboard resonance. With powerful vibrations we approach the end of the album. On Islands ignites Artur new musical cascades. Guitar, rhythm and keyboard form an authentic unit.
Perfect Day offers an incredible richness of musical ideas in the region of new age, world music and electronica. If you push aside the thought of the genres, remains great music that inspires.




Album Information

Title: Perfect Day
Artist: Artur Bayramgalin
Year: 2014
Length: 0:30:00
Genre: Electronica
Label: Diamond Records


Tracks:
01 Perfect Day [3:22]
02 Enisei [4:05]
03 Reminiscence [5:44]
04 Butterfly [4:05]
05 Over The Clouds [5:33]
06 Daydreamer [2:37]
07 Islands [4:33]




Further reviews

Electric Breezz


Interro Island