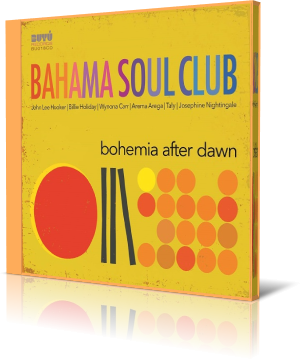 Central element of the music of Bahama Soul Club is the percussion. This is no coincidence, because this formation was founded by Oliver Belz, a dedicated percussionist. Second in the group is keyboardist André Neundorf.
Together they released
Rhythm Is What Makes Jazz Jazz
(2008),
Bossa Nova Just Smells Funky
(2010),
Bossa Nova Just Smells Funky Remixed
(2013),
The Cuban Tapes
(2013), and
Havana '58
(2016). This year they are back with
Bohemia After Dawn
.
Additional artists on this edition are York (sax, flutes), Ralli King (guitar), Holger Stonjek (bass), Lars Lehmann (bass), Maike Jacobs (vocals), Claus Hartisch (guitar, bass), and Bela Heine (guitar). All tracks are written and performed by Oliver Belz and André Neundorf.
The album opens with
Afrodisia
, a pun from Aphrodisiac and Africa. If you expect African-influenced music, you will be surprised by an Indian groove with an unnamed female singer and Tablas in the intro. Quickly the tune meanders in a wild mélange of Indian sound with a heavy jazzy input of sax player York.
My personal favorite on this album is
Ain't Nobody's Business
that starts with an irresistible upright bass run. Bahama Soul Club perfectly transforms Billie Holliday's original voice from the Big Band set into a contemporary flow.
Mercy Me
is a seldom mixture of fluffier Latin Lounge style with the more bluesy style of vocalist Josephine Nightingale. Cuban singer Arema Areda is the undisputed star on the Latin flavored
Mango
. Arema has already often collaborated with Bahama Soul Club on all Cuban influenced albums.
Mixing the blues with easy going music is also a specialty of the group. They took parts of John Lee Hooker's 1946 recorded version
When My First Wife Left Me
and lifted it into a new musical surrounding giving his song a totally new direction.
Taly Minkov-Louzeiro from Portugal can also be called a new discovery. With her strong and energetic voice she gives
Troubles All Be Gone
the right verve.
Alma Sola
already has something of underground music in the intro, before Arema Arega brings the song back on track with her ingratiating timbre.
Riding The Train
has the rushing organ drive, which we still know from the old Brian Auger times.
Tears Run Down
features another vocal gem of the past, gospel singer Wyon Carr.
Final tune is
Castelejo
. This is one of the finest beaches of the Algarve. Joining from the local artists are Rui Correia on accordeon and singers Josephine Nightingale, Cutty Wren and Hedvig Larsso. Be also aware of the beat sample from the Beatles'
Come Together
. Oliver Belz has dedicated this song to his late Portuguese friend and artist Vitor Hugo.
The Bahama Soul Club pursues on their new album
Bohemia After Dawn
the skillful blend of soul, jazz, funk, blues, bossa nova, afro and Caribbean music. This incredible mix is the key to their success.










Buy the album in all stores

Album Information

Title: Bohemia After Dawn
Artist: Bahama Soul Club
Year: 2020
Length: 48:52
Genre: Nu-Jazz
Label: Buyú-Records

Tracks:

1) Afrodisia (3:38)
2) Ain't Nobody's Business Ft. Billie Holiday (4:34)
3) Mercy Me Ft. Josephine Nightingale (3:37)
4) Mango Ft. Arema Arega (3:43)
5) Never Roam No More Ft. John Lee Hooker (4:00)
6) Troubles All Be Gone Ft. Taly (4:23)
7) Alma Sola Ft. Arema Arega (3:24)
8) Riding the Train (4:01)
9) Tears Run Down Ft. Sister Wynona Carr (3:39)
10) Never Roam No More - Smoove Remix (5:00)
11) Mango - Club Des Belugas Remix (3:40)
12) Castelejo - Hommage À Vitor Hugo (5:09)







Further review:




Havana '58