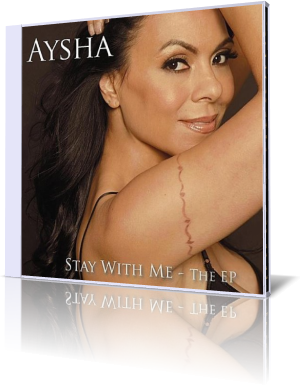 Hailing from Los Angeles, California this young singer is working hard for her career. Aysha is the African word for life or the Arabian word for lady. Anyway a great name for a beautiful woman. It took her several years before she really started into music business.
She was a member of the groups Destination and Girls In The Mix and performed with Ronkat and the Funklectiks featuring Ron Spearman. In 2006 she released her debut album Love Is A Rock and now published her sophomore album Stay With Me, which already received high acclaims of Internet magazines.
Influenced by the style of Sade, Toni Braxton and Chante Moore Aysha searches the balance between soul, R&B and vocal jazz. Her velvety voice is destined for sophisticated songs.
Although Aysha would like to take piano lessons, she restricts herself on her vocals, which isn't bad at all. Her great respect for instrumental music was the reason to approach several great producers and composers to create this fantastic new album.
The title song was composed by keyboardist Monty Seward, a very experienced musician, who already worked with Teddy Pendergrass, Paul Jackson Jr., Diana Ross, Howard Hewett, El DeBarge and more. Aysha's beautiful vocals are emotionally accompanied by Everette Harp, whose sax reaches on this tune a special grade of smoothness.
The second song Keep On Loving Me was penned by guitarist Zane Giles, who also is a top-notch musician with Patti Austin, James Ingram, El DeBarge, Miles Davis and more on his clipboard. On this song Aysha perfectly follows the intonation of Sade, which is certainly the intention of this determined woman.
The uplifting Is This Just A Dream is a collaboration of bassist Darrell Freeman and Aysha. Darrell is the ideal partner, because he participated already in many smooth jazz and R&B projects with knowledge in both genres. Early McCalister's intimate sax seamlessly melts with Asyha's sultry vocals.
I Remember Your Love is a wonderful ballad underlining the outstanding quality of Aysha's vocal skills. Zane Gilles, who composed the tune, accompanies Aysha on his magic keyboards. Nice his musical cite of Seal's Kiss From A Rose.
A further highlight of this album is the EWF-flavored Dreamin' featuring grandmaster of sax Gerald Albright. Awesome Zane's Salsa excursion on piano. The legendary Paulinho DaCosta on percussion is the rhythm backbone!
The album also offers radio edits of Stay With Me, Keep On Loving Me and Dreamin', a treasure trove for Radio DJ's.
We have to thank Aysha for this great music gift. It's a privilege to listen to such a blessed singer.




Album Information

Title: Stay With Me [EP]
Artist: Aysha
Year: 2010
Length: 0:38:15
Genre: General R&B
Label: KLW Records

Tracks:

01 Stay With Me [5:47]
02 Keep On Loving Me [5:08]
03 Is This Just A Dream [4:39]
04 I Remember Your Love [5:17]
05 Dreamin' [5:03]
06 Stay With Me (Radio Edit) [4:35]
07 Keep On Loving Me (Radio Edit) [3:57]
08 Dreamin' (Radio Edit) [3:48]