Avenue H – Off The Floor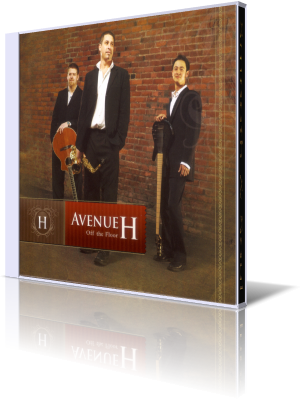 Keyboardist and guitarist Conor Miller, saxophonist and flute player Dan Leonardo and bassist and guitarist Sam Hobbs are Avenue H. Visiting their new-styled website one immediately recognizes that these musicians understand themselves as musical identity, as musical package for booking.

On the other hand they would hide their light under the bushel, if we would reduce this group just to musical part of a wedding entertainment. Indeed with their debut album Off The Floor Avenue H showcase their quality as top notch band. It's time for Avenue H to step into the limelight. Influenced by Marcus Miller, David Sanborn, Bela Fleck the group presents on their album finest smooth jazz.
The album starts with Straight Up The Middle, a device all band members perfectly take to heart. Outstanding bass in the style of Marcus Miller and a dynamic sax reminding at Boney James is the significant sound of this groovy tune. With a length of more than 6 minutes the song gives the group enough space for improvisations.
Silk to Sand features Dan Leornardo in his dual role as soprano sax and flute player. Also superb Conor Miller on guitar. Later the tune get a twist to a reggae, a nice surprising effect.
All tunes on this albums are compositions of the group except the well-chosen Careless Whisper, a 1984 single by George Michael. The group grows with this tune and shows a great potential.
The moody Down The Strip surprises with a tempo-changing beat in contrast to the colorful soundscape. The propelling bass follows the beat and pushes the melody to another direction. Acoustic guitar, soprano sax and piano keep the song in smooth jazz places while beat and bass interferes to rise the tension.
Pinky is build around a dark synth loop. The melody is brilliantly worked out by Dan's sax and scouted by Conor's guitar. Underlined by a raw organ the song receives its edges. On this album is also a romantic vein as Resolution clarifies. But the group has a tendency to tempo and mood changes to keep the song vivid.
The final Trade Winds sums up the qualities of Avenue H, professional music, good arrangements and musical ideas. To avoid the menacing Paul Hardcastle effect I would engage a top notch drummer.
Avenue H's Off The Floor is finest smooth jazz with adventurous vibrations, just enough to keep the interest of the audience. A perfect first step into music market.




Avenue H - Website



Buy the album




Album Information

Title: Off The Floor
Artist: Avenue H
Year: 2009
Length: 0:39:33
Genre: General Jazz


Tracks:

01 Straight Up The Middle [6:45]
02 Silk To Sand [7:49]
03 Careless Whisper [4:24]
04 Down The Strip [5:59]
05 Pinky [4:42]
06 Resolution [3:28]
07 Trade Winds [6:27]