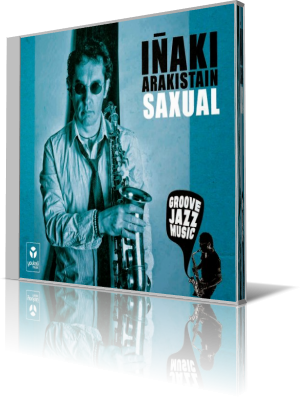 Spanish sax player Iñaki Arakistain is an in demand musician in the music scene of Spain. According to his website he has already released three solo projects.

Tiempos de búsqueda was recorded in 2008, followed by PLAN B in 2010 and Saxual in 2014. On his newest project he is supported by Jonathan Badichi (trumpet and flugelhorn), Jorge Vera (keyboards), Israel Sandoval (guitar), Tomás Merlo (bass), Georvis Pico (drums), and Thomas Schindowski (vocals).
The album comprises six Arakistain originals and four instrumental covers. The journey begins with the dynamic Red Star and the in top form occurring main actor. The good flow is due to the great sax performance always ready to rise to peak exertion at the blink of an eye. The other musicians contribute to this through their perfect engagement.
If you like the funk of Maceo Parker or Candy Dulfer, Saxual is good for you. Iñaki approaches Bobby Hebb's Sunny with a jazzy attitude and a great range of improvisation. Jorge Vera transforms the melody to a superb piano run. Michael Jackson's Blame It On The Boogie grows seamlessly on the listener.
Next from Michael's repertoire is Rock With You. I love the flute intro and the sensitive sax interpretation which reveals a great respect for the melody. Certainly one of the best renditions of this popular song. Chemical offers an outstanding horn arrangement, which can concur with those of Tower of Power or East Bay Soul. Israel Sandoval infuses a more rockish note.
Jewish Incognita gives room for contemporary jazz and live recording. Obviously no terra incognita for the group. Nocturnal Beings presents smooth transitions in a flowing shape blending elements of contemporary and smooth jazz to an irresistible sound design.
John Coltrane's Countdown (Funky Version) is obviously a proof of integrity and completeness for jazz in its original art form with complex harmonic progression and substitute chords. After this challenge to the listener it comes finally in the wake of Latin Jazz with Black Samba. Thrilling rhythm and professional music at the highest level.
Saxual is an album that you should listen to in one go. It grabs you and takes you until the last note.