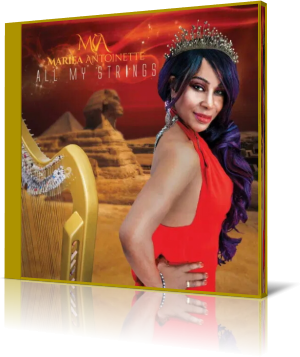 In the field of smooth jazz, the harp undoubtedly has a unique position. The harp is not unknown to jazz, as there have been jazz interpreters on the harp before such as Dorothy Ashby or Alice Coltrane. However, it is only through Mariea Antoinette that the harp comes back into the public eye.
Mariea had her first success with the debut album Sexy Paradise (2003). Only later followed by her albums Straight From The Harp (2014) and All My Strings (2020).

On her new album Mariea works together with producer Allan Phillips, who plays drums, bass, keyboards and guitar, has written and arranged four songs of the album and also produced her project. As further musicians are to be mentioned Derek Cannon (trumpet), John Rekevics (tenor and baritone sax), Dan Regan (trombone), Alex Al (bass), Jordan Morita (trombone), Evan Marks (guitar), Mark Hunter (bass), Kevin Koch (drums), Tommy Aros (percussion), and the AP AllStars Strings.
The title of her new album is based on her vision to set a monument to the evolution and magic of strings. She had already implemented this idea several years earlier with the opener and the first single Overture. The title with a classical touch indicates the mixture of modern pop and classical technique.
Yearning for Your Love was originally recorded by the Gap Band for their album The Gap Band III (1981). Compared to the original, Mariea's instrumental commitment is much greater. Mariea takes up the orchestral approach again with All My Strings.

The song Loving You by Minnie Riperton from her album Perfect Angel (1974) will be remembered by many from a special aspect. It's Minnie's whistle voice technique that only very few top singers can master with that perfection. One notices Mariea's interpretation, how much love and passion was brought in. Mariea dedicated this song to her former mentor and producer Carl Evans and with the help of Allan she managed to get the remaining members of the group Fattburger to join her on this song making it to a lasting memorable one.
In the combination of harp and strings lies its own tonal power, which, however, leaves little room for improvisation but rather for sound paintings like on Ain't Playin. This music is most comparable to the Philly Sound Orchestra. That Thing is the GRAMMY awarded debut single from American singer Lauren Hill from her album The Miseducation of Lauryn Hill (1998). This timelessly elegant song loses nothing of its brilliance in Mariea's rendition.
The graphics of the CD contain Egyptian motives like the pyramids, the Sphinx or the temple of Karnak. With Sekmet (Lioness Goddess) Mariea takes up the Egyptian theme. Keyboardist Lonnie Liston Smith created A Garden Of Peace as last track of his album Dreams of Tomorrow (1983). Mariea arranges the piece partly as spoken word number and partly she takes over the melody on her harp.
Mariea says Good Bye with the final solo instrumental tune Gaia, according to Greek mythology the name of the personification of the earth. A peaceful and tranquil piece.
Mariea Antoinette closes with All My Strings a gap for all those who consider the harp as their favorite instrument. Extraordinary in sound and realization for all those who are looking for an individual entrance to music.




Biography

Website


Buy the album in all stores

Album Information

Title: All My Strings
Artist: Mariea Antoinette
Year: 2020
Genre: Smooth Jazz
Label: Infinity Productions/Maasai


Tracks:

1) Overture (3:09)
2) Yearning for Your Love (5:15)
3) All My Strings (3:50)
4) Loving You (4:42)
5) Ain't Playin' (4:21)
6) That Thing (4:51)
7) Sekmet (Lioness Goddess) (6:03)
8) The Garden of Peace (3:45)
9) Gaia (3:00)