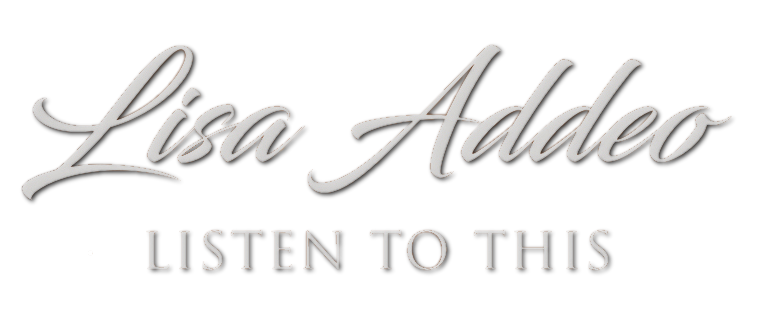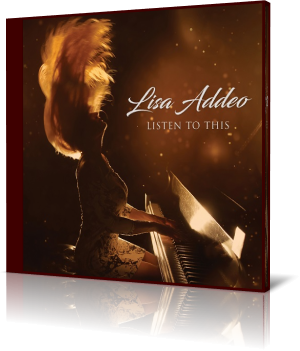 Miami Beach, Florida based jazz pianist, vocalist and composer Lisa Addeo has earned her own place in the smooth jazz genre with verve. Her debut album In A Heartbeat (1997) was a tribute to Frank Sinatra. Her next album Hotel California (2000) presented mostly own compositions. Further albums are Grand Piano (2006), Musical Inspirations (2006), Spirit of the Holidays (2006), Live at the Kerr (2006), I Just Can't Stop Loving You (2010), Whispering Souls (2012), and this year Listen To This.
Lisa feels at home in different genres like jazz pop, New Age, and the Great American Songbook. Smooth Jazz is her newest field of activity. Lisa Addeo performs on her new album piano, Rhodes, and Synths. She is also lead vocalist on various songs.
She is supported by Nils (guitars, synths, pads, Rhodes, drum programming), who also co-wrote with Lisa most of the tunes and was also involved in the mixing and producing process. Adam Hawley (guitars, programming, aux keys, percussion) participated in the same way in the production of the second piece. Further musicians are Darryl Williams, Mel Brown, Tony Saunders (bass), Tony Moore, Eric Valentine, Gorden Campbell, Derrick "Dmar" Martin (drums), Oliver C. Brown (percussion), Jeff Ryan, Steve Cole (sax), Johnny Britt and the JB Horns (horns), Dov and The Lovestar Strings (strings).
Lisa Addeo opens with Listen To This a new era in her personal music biography. Her life's work to date has been determined by floating, intangible themes or quotes from well-known melodies. Now she searches for the tangible compositions of her own that stick to the memory and translates them into energetic, confident strokes on the piano.
High Heels heats up the mood with Jeff Ryan's tight and dynamic sax performance which finds its congenial echo in Lisa's blistering piano play. Already the title She Closed Her Eyes in Paris awakens in the viewer a head cinema full of fantasies, which find its confirmation in the expressive mind touching melody.
Those who seek the atmospheric will often find it in the muted trumpet of Johnny Britt that accompanies Lisa's sensitive piano realization on So Much. Nils stands for everything else in instrumental perfection. With Never Enough Lisa steps into another groove who likes to fall back thematically on experiences in the processing of earlier covers.
Little Black Dress shows a lot of professionalism of the musicians involved, which raises the theme to an instrumental pleasure of the highest kind. At best, the feeling of happiness can only be clouded by the fact that this concrete quality cannot be realized with Mp3 downloads for most of Lisa's audience.
What Cha' Know About That is so much melodic enriched that it would have easily earned a place in the American Songbook. Lisa glides on the keys with Stay with Me Tonight in well-known professional ways.
Hold. Love. Kiss. shows more of Lisa's piano elegance with her smooth and pulsing articulation. On Touch Me in the Night guitarist Nils delivers his special flavor to Lisa's magical tour de piano.
The vocal part of the album starts with Her Intuition which presents itself as a stylistic upheaval, since Lisa, considering her timbre, does not choose the jazzy attitude but rather the area of pop. The last four tracks are vocal versions of instrumental pieces already presented on this album.
Lisa Addeo's Listen To This is one of the better albums of this year because of its elaborate production, excellent musical realization and absolutely appealing compositions, which are absolutely worth buying. Hopefully Lisa will take the effort to put her production on the market as a CD.




Buy the album in all stores

Album Information

Title: Listen To This
Artist: Lisa Addeo
Year: 2019
Genre: Smooth Jazz
Label: Independent

1 Listen to This 4:13
2 High Heels (feat. Jeff Ryan) 4:09
3 She Closed Her Eyes in Paris 4:03
4 So Much 4:52
5 Never Enough 3:59
6 Little Black Dress (feat. Steve Cole) 4:54
7 What Cha' Know About That 4:46
8 Stay with Me Tonight 4:14
9 Hold. Love. Kiss. 4:02
10 Touch Me in the Night (feat. Nils) 4:59
11 Her Intuition 5:42
12 She Closed Her Eyes in Paris (Vocal Version) 4:02
13 So Much (Vocal Version) 4:52
14 What Cha' Know About That (Vocal Version) 4:46
15 Touch Me in the Night (Vocal Version) [feat. Nils] 4:59