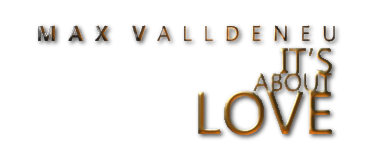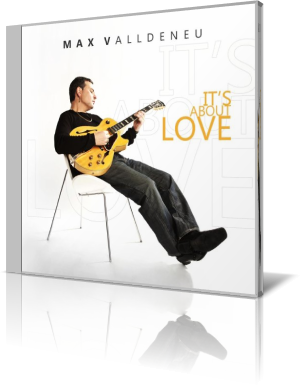 In Max Valldeneu's chest are beating two hearts. His first passion was the blues. He founded La Fulana Blues Band and Mo' Blues. Later he was the band leader of Artie "Blues Boy" White. Further bands he performed with were The World Band, The Platinum Band and the Tyrone Davis Revue.
Under the influence of the guitarists Earl Klugh, Norman Brown, Bobby Broom, Paul Jackson Jr, Lee Ritenour, George Benson and Wes Montgomery he discovered the love for the smooth jazz genre. His debut album It`s About Love (2011) is a confession for his new direction. With the exception of three covers Max has written all songs.
Valldeneu is supported by Roosevelt Purifoy (keyboards), Joewaun Scott (bass), Steven Sanders (percussion), Tyrone Mitchell (drums), Pete Carney (sax) and more. When you hear a guitarist for the first time, you try to categorize him stylistically. Under scrutiny It's About Love allows parallels to Norman Brown's guitar performance.
The relaxed playing of Packagito reminds me of the early Ronny Jordan. Morning Voice is a good example for Valldeneu's mastership on his guitar, which do not depend on speed but on the subtle nuances. It's very popular today's to cover hits of Stevie Wonder. Valldeneu is no exception, who interprets Superstition in a slow and jazzy approach.
I Just Wanna Be With You features Precious Taylor and Tyrone Mitchellin in a sentimental song. Two high-caliber vocals that ennoble Max's guitar performance indeed. On Just U And Me Max follows Benson's footsteps combining brilliant guitar play with humming the melody. With the uplifting Meme he spreads sunshine.
On Babyface's My My My Valldeneu showcases his romantic vein. With the instrumental version of I Just Wanna Be With You he leads us to the affectionate structure of his composition. The crowning glory of the album constitutes Michael Jackson's song The Girl Is Mine. Ronnie Graham on alto sax pairs with Valldeneu's sonorous guitar.
It`s About Love leaves a positive impression. Valldeneu has acquired an excellent way of playing that can readily compete with the big names in the music business.






Album Information





Title: It's About Love
Artist: Max Valldeneu
Year: 2011
Length: 0:46:55
Genre: General Jazz


Tracks:

01 It's About Love [3:39]
02 Packagito [4:29]
03 Morning Voice [5:43]
04 Superstition [4:25]
05 I Just Wanna Be With You (Vocal Version) [5:20]
06 Just U And Me [4:52]
07 Meme [5:13]
08 My My My [4:21]
09 I Just Wanna Be With You [5:20]
10 The Girl Is Mine [3:32]