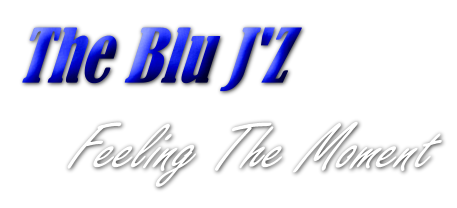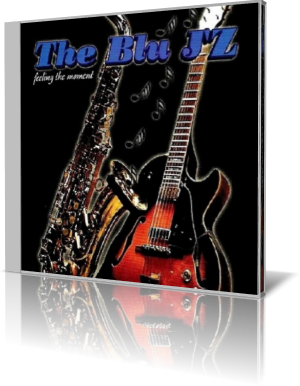 The Blu J'Z is a group founded by guitarist, composer, and vocalist Reggie Silva. His son Richard Silva (saxophonist) joined the band a short time later. Further members are his brother Joe Silva (saxophonist, vocalist, percussion), Julian Molina (bass), Ricky Gonzalez (rhythm guitar), and Juan Chevalier (drummer, vocalist). All are performing in Fresno's jazz music scene.
The band already opened for Fred Yonnett, David Sanborn, Bob James, Brian Culbertson, Boney James and Patrick Lamb. Even some popular smooth jazz magazines have spread the word. 2001 was the debut of their CD Feeling The Moment, which is still the only release.
The album starts with Keepin It Tight. The first impression of a committed band, in which the shares of the involved musicians are equally important. Beside the above mentioned musicians Darrell Devaurs is joining this recording as pianist, keyboardist and supplier of additional strings.
The most significant portion of an album has always been the theme song. Feeling The Moment is no exception. The formation show its strengths as a live band. It's like a well designed business card. Day By Day indicates that this group is addicted to the use of brass instruments. The outburst of bass and keyboards is a welcome surprise.
On Power Of The Wind one does not know, will the group march in the direction Earth, Wind and Fire or Tower of Powers. Also remarkable is the combination of soprano sax and synthesizer. The ear has to get used to the original again. What the hell is In The Country Funk? Country? No! Funk? Oh, yes! Finally contemporary jazz with some Latin jazz and a pinch of Funk! The band knows the job of a professional musician.
The Latin swinging Sunday Morning has a happy­go­lucky attitude. South East Side Of Town is a cheerful description of urban life. Ain't No Thang appropriately reflects the funky origin of the band.
Feeling The Moment has ​​the charming touch of the past, owed to spirit of times and musical ethnicity. This album is not influenced by the fashion trends of the smooth jazz genre.





Album Information




Title: Feeling The Moment
Artist: The Blu J'z
Year: 2001
Length: 0:34:00
Genre: General Jazz
Label: Refugio J Silva

Tracks:
01 Keepin It Tight [3:54]
02 Feeling The Moment [4:24]
03 Day By Day [3:58]
04 Power Of The Wind [4:44]
05 In The Country Funk [5:27]
06 Sunday Morning [3:19]
07 South East Side Of Town [4:31]
08 Ain't No Thang [3:43]