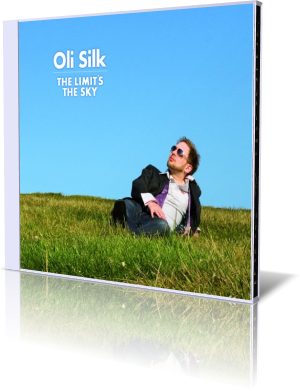 Fans of U.K.'s smooth jazz scene will remember Oli Silk as part of the group Sugar and Silk. Danny Sugar (bass guitar) and Oli Silk (keyboards) had two albums to their credits, Fact or Friction (2000) and Duality (2002).
While Danny Sugar became a designer and does lots of designs and all the artwork for Oli's album, Oli Silk started his solo career with his debut album So Many Ways (2006), followed by the album The Limit's The Sky in 2008. Both albums were released on Trippin 'N' Rhythm Records.
Oli also produced James Vargas' debut album (2004) and Jaared's album Addiction (2008). Oli Silk has just begun the recording of his third album, which is scheduled for release August, 31st 2010.
A good reason to listen to his previous album The Limit's The Sky. The title track opens the album with Jaared's dirty, gritty sax intrusion served in a turntable scratch set. Peppered with that flavor Silk's piano performance sounds fresh and contemporary.
When you dig deeper into Jeff Lorber's Fusion, you will find his album In The Heat Of The Night (1984). Seventh Heaven taken from this album finds a modern revival by Oli Silk on piano. With Oscar Seaton on drums and Dwayne Smitty Smith on bass there can't go anything wrong.
That Kinda Love features splendid singer Donnell Spencer jr. He is not only a great R&B singer but also composer for Boney James, Steve Cole or Judy Watley. On James Vargas' debut shows in Catalina (2004) Donnell (drums) and Oli (keyboards) joined his band and became friends.
Chill Or Be Chilled is swimming on the European Chillout wave with an easy going melody. Solarity is another song, which Oli Silk co-wrote with guitarist Matt Park. With a remarkable length of over 8 minutes the hypnotic song still keeps tension and groove. The sax is played by Gary Honor, a young Australian musician who debuted with the album Atmospheric (2004).
Lime Cordial Soup, that's quite tasty. Oli Silk walks with this piece on the borderline between jazz and instrumental pop. Combining the best of both worlds he really shows his piano skills. Stay cool and relaxed. Receive the De-Stress Signal! An excellent presentation of this song is to find on Jimi King's Sky FM show.
Looks like Oli Silk was inspired by label mate and idol Paul Hardcastle, when he composed and recorded the cheeky and freaky This Was Then, That Is Now. Greetings to Jeff Lunt! When sax player Jaared, bassist Dwayne Smitty Smith and Oli Silk jam together, then is the music so obvious special, means S.O.S.O.S. !
Get It Together is a stirring vocoder piece melting old-school funk with contemporary sounds.
Today's it's not an easy undertaking to catch up with the avant-garde of the smooth jazz genre. Oli Silk's album The Limit's The Sky is the best step to reach this aim.




Website

Buy the album in all stores



Album Information

Title: The Limit's The Sky
Artist: Oli Silk
Year: 2008
Length: 0:49:49
Genre: General Jazz
Label: Trippin' N Rhythm


Tracks:

01 The Limit's The Sky [3:39]
02 Seventh Heaven [4:18]
03 That Kinda Love [4:53]
04 Chill Or Be Chilled [3:45]
05 Solarity [8:19]
06 Lime Cordial Soup [5:05]
07 De-Stress Signal [3:36]
08 This Was Then, That Is Now [5:57]
09 S.O.S.O.S. ! [4:39]
10 Get It Together [5:36]


Further review

Sugar and Silk - Duality