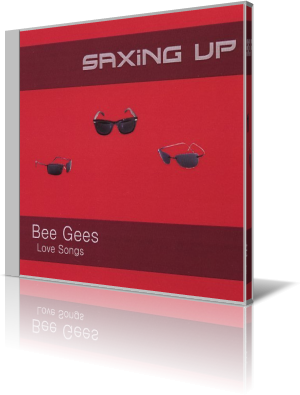 Saxophonist
Konstantin Klashtorni is best known for his unbelievable creativity transformed in a plethora of smooth jazz albums. Compared to his other projects
Saxing Up
is unique.
On this album from 2007 which is currently not available, he covered famous
Love Songs
of the Bee Gees. Recorded in the KVK Music studio in Rotterdam, Netherland this musical gem has stood the test of time.
The album starts with
How Deep Is Your Love
, a pop ballad written and recorded by the Bee Gees in 1977. Although the tune lives from the falsetto lead vocal of Robin Gibb, is Konstantin on sax a gorgeous replacement.
To Love Somebody
, a song written by Barry and Robin Gibb from their international debut album,
Bee Gees 1st
(1967), already climbed the International charts in the early period of their career. Konstantin appreciates the emotional value of the original and softly interprets it on his lead instrument.
You Win Again
from 1987 marked the start of the group's comeback, becoming a number one hit in many European countries. Konstantin takes over the jabba-doomba, jabba-doomba of the original signature rhythm and makes it just right.
I Could Not To Love You More
from the platinum album
Still Waters
(1997) works well in Konstantin's rendition with a perfect arrangement.
Too Much Heaven
(1978) was the band's contribution to the "Music for UNICEF" fund. The song was released after their tremendous
Saturday Night Fever
success. Konstantin's contribution brings highlights of sax and flute.
More Than A Woman
was released as soundtrack for the film
Saturday Night Fever
. Konstantin's instrumental performance comes as close as possible to the original. Enthusiasm and passion are captured, but sax cannot always replace vocals.
Emotion
became popular as a cover by American R&B group Destiny's Child in 2001. Konstantin works out flawlessly the harmonies on sax.
Run To Me
was the first track on the group's 1972 album
To Whom It May Concern
. Konstantin succeeded in creating a powerful implementation of the vocal harmonies to saxophones. The arrangement is impeccable and to the point.
On the cover of
Love So Right
from 1976 Konstantin follows Barry's falsetto on soprano sax, while the tenor saxophones rule as background harmonies.
Words
(1967) was a huge hit in Europe. Konstantin illuminates the essence of the tune paying tribute to the past.
Doing a cover album of greatest hits is not uncommon. Doing it with so much integrity is Konstantin's outstanding achievement. Unfortunately is this album out of sale. Keep it as a rare gem if you can find it.



Buy the album in all stores




Album Information



Title: Bee Gees - Love Songs
Artist: Saxing Up
Year: 2007
Length: 0:40:38
Genre: General Jazz
Label:

KvK

Music


Tracks:
01 How Deep Is Your Love [4:03]
02 To Love Somebody [3:46]
03 You Win Again [4:04]
04 I Could Not To Love You More [4:04]
05 Too Much Heaven [4:55]
06 More Than A Woman [3:48]
07 Emotion [4:34]
08 Run To Me [3:46]
09 Love So Right [4:19]
10 Words [3:19]