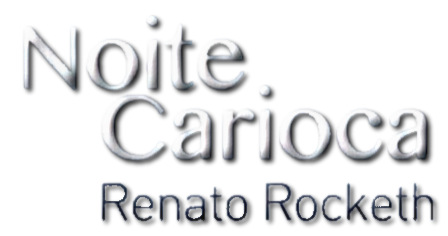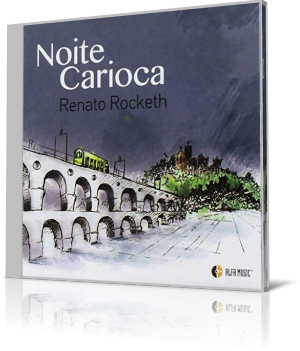 Based in Niterói, Rio de Janeiro, Brazil bassist, singer and composer Renato Rocketh can look at a solid career in his country. In 2014 he visited Italy, especially the Salento region in Puglia. Puglia, a southern region forming the heel of Italy's "boot," is known for its whitewashed hill towns, centuries-old farmland and hundreds of kilometers of Mediterranean coastline.


Noite Carioca
, released in 2017 on AlfaMusic, is dedicated to the beauty of Italy. Bassist Renato is accompanied on selected tracks by Valerie Lu (vocals), Alberto Barreira (sax, flute), Heber Ribeiro, Kiko Continentino (piano), Roberto Alemao, Renato Massa (drums), Felipe Tauil (percussion). Renato has made all arrangements, bass and vocals. He has also composed all songs with the exception of
Ela Sabe Sambar
, which he has written together with Fernando Hungria.
The album opens with the usual greeting as known in Italy.
Buongiorno
presents Alberto Barreira's unadulterated sloping saxophone insertion, Renato's deep sonorous sounding upright bass and Ribeiro's keyboard accompaniment.
On
Europa
Renato excels in bebop stylish virtuosity.
Il Mare Di Gallipoli
is Renato's ode to the wonderful ancient town in Italy. How else could one describe this dreamlike region but through sonic harmonies.
Bossa Nova Per Lecce
is his tribute to another beautiful city.
Lecce
, a city in Italy's southern Apulia region offers numerous spectacular buildings like a Roman amphitheater, medieval churches with picturesque portals or the lively old town.
Voar
(I fly) has dedicated itself to speed, at the same time also to the floating.
Ela Sabe Samba
(She Knows Samba) lives out the Brazilian way of life, the daily carnival as it shows itself especially in Salvador de Bahia with its numerous Samba schools.
Samba Coisa E Tal
is the only vocal piece of the album featuring Valerie Lu and showcasing the vital nightlife of Rio de Janeiro. Nevertheless, Renato does not miss the opportunity to perform a very special solo in undreamt-of duality of bass and voice.
Noite Carioca in Salento
is a melancholy farewell to the wonderful region of Salento. Especially Barreira shines with his extravagant escapades on the flute.
Renato Rocketh's
Noite Carioca
is a contemporary jazz album dedicated not only to the beauty of Puglia but also to the jazzy style.







Buy the album in all stores

Album Information

Title: Noite Carioca
Artist: Renato Rocketh
Year: 2017
Genre: Contemporary Jazz
Label: AlfaMusic


1) Buongiorno (7:54)
2) Europa (7:20)
3) Il Mare Di Gallipoli (9:53)
4) Bossa Nova Per Lecce (7:35)
5) Voar (4:29)
6) Ela Sabe Sambar (7:36)
7) Samba Coisa E Tal (5:44)
8) Noite Carioca in Salento (8:11)