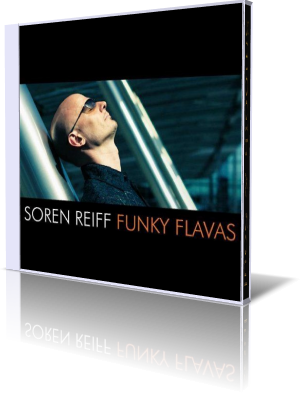 Although the artist Soren Reiff might be unknown for most of us, he is an in-demand musician in the music business. This Danish guitarist has already worked as musical director for Chaka Khan and David Sanborn. He also recorded with the artists Michael Brecker, Tower of Power, Robert Palmer and Toots Thielemanns. Currently he is performing as a band member, bandleader and session musician in Denmark.
Last year he made waves with his new album Miss You receiving high accolades by critics and fans alike. An opportunity to study his previous work. In 2003 Soren Reiff released his debut album Funky Flavas featuring musicians such as Anders Pedersen (drums), Jannik Jensen (bass), Stig Kaufmanas (keys), Flemming Nilsson (percussion), Kasper Langkjær (drums), star guitarist Mike Stern and the singers Michael Ruff, Nabiha Bensouda and Rikke Mølgaard.

Soren introduces into his album with Move On Closer, a collaboration between Soren and Nabiha Bensouda. While the female singer allures with siren-like vocals, Soren's melting guitar excels with a signature sound.

If Anybody Wants To Know reveals a certain conflict of aims in Soren's music. On the one side he wants to present popular and sultry music, on the other side his guitar burns comparable to Jimi Hendrix's style based in the blues. Soren is radiantly bridging these gaps without neglecting the sine qua non of identity.

On Children's Song Soren Reiff reveals more of his roots. Echoes of Steely Dan, Pink Floyd and Santana are unmistakable. With appealing love ballades like Relaxin' Soren mesmerizes his audience. A peaceful day of one's holidays with a romantic story wrapped by a lyrical acoustic guitar.
On the jazz-fusion piece Keep Your Cool showcases more of guitar mastery with an excursion into the rock realm. Thoughts presents more the raw side of Soren's guitar work. Some compare him with Jimi Hendrix, what is obvious at this point.
Swedish Spring is a prove for the fact, that Soren is not only incredibly talented but can also stand comparison with master guitarist Mike Stern on this tour de force. A stunning and exciting collaboration in guitar music. On Forrest Soren performs a heartfelt and romantic melody in his edgy style, a counterpoint to the fluffy guitar sound we often hear.
The dynamic song She's Dope impresses with an increasing guitar performance. The aural interlude You links up to With Play Da Funk Soren Reiff returns to the style, the album title stands for. Funky music with strong fusion elements. The final tune Growing Love features lovely singer Rikke Mølgaard. Her attractive vocals motivated Soren to produce her album One Side of Me with new original material composed by Rikke Molgaard and Soren Reiff.
The term flava means style, individuality and spice in one's personality, something that is good or well liked, accepted, just cool. Soren's album Funky Flavas without doubt perfectly fits to this title.





Album Information

Title: Funky Flavas
Artist: Reiff Jr.
Year: 2003
Length: 0:58:29
Genre: Smooth Jazz
Label: DaRoof Records


Tracks:

01 Move On Closer [5:43]
02 If Anybody Wants To Know [5:26]
03 Children's Song [5:29]
04 Relaxin' [3:37]
05 Keep Your Cool [4:52]
06 Italian Thoughts [0:59]
07 Thoughts [6:48]
08 Russian Thoughts [0:44]
09 Swedish Spring [4:58]
10 Forrest [4:53]
11 She's Dope [4:59]
12 You [1:36]
13 Play Da Funk [5:09]
14 Growing Love [3:16]