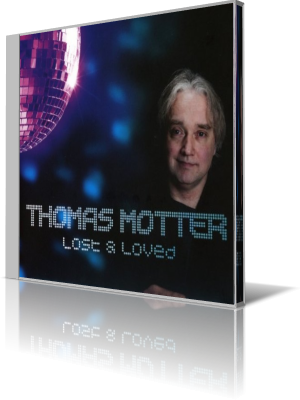 German keyboardist and songwriter Thomas Motter has already released four albums. The debut No Return (2005) and the second album Nite Angel (2006) are published under the project name "t-mc". The abbreviation "t-MC" stands for "Thomas, Master of Ceremony". His third album High (2012) is released under the project name "moon base".
Thomas comments: "On a more abstract level a "moon base" is so similar to a train station, an extraterrestrial connection station. And a meeting - in this case for musicians and lovers of jazz, funk & soul!" His recent album Lost & Loved (2013) is released under his own name Thomas Motter and mastered by Eric Zobler.
Stylistically remains Thomas faithfully to jazz, funk and soul compared to his previous projects. The album opens with Star featuring soul singer LeNora Jaye. A hip ballad about one's willpower, which is able to prevail over the life adversities and makes you a star.
High Times glows with a polished guitar groove by Martin Frick. Lost & Loved is the affected song by Melissa Bell, former lead singer of top UK act Soul II Soul, about a lost love. Melissa also wrote the insightful lyrics of this song. Come into My World presents the German­American singer Michelle J. Bradshaw, who is at home in the hip hop scene and also mirrors her musical inclination in this piece.
The interlude Madagascar shows Thomas Motter's briskly keyboard performance. Lovin´ Meditation features talented soul singer Karl Frierson, who is the male lead singer of German group De Phazz. A veteran of entertainment and an international in demand artist. The dreamlike impression of fluttering butterflies conveys Nathan Crosse on the flute.
On I Keep Imagining we listen to a duet of singers Helen Taylor and Eric Conley, two divine voices who know how to convince. If You Like It is LeNora's second contribution. A piece that really stand out for its asymmetrical clock. The interlude No Dance amazed with surprising keyboard sounds. The final piece Rain presents Helena Paul with an atmospheric jazzy ballad that brings us closer to the sensibility of the rainfall.
Those who like soulful singing with meaningful lyrics in a professional instrumental framework, will be well served by Thomas Motter's Lost & Loved.



Buy the album in all stores




Album Information



Title: Lost & Loved
Artist: Thomas Motter
Year: 2014
Length: 0:50:27
Genre: General R&B
Label: Rodenstein Records


Tracks:
01 Star [4:48]
02 High Times [5:43]
03 Lost & Loved [5:15]
04 Come into My World [3:57]
05 Madagascar [1:14]
06 Lovin´ Meditation [7:08]
07 Butterflies [4:56]
08 I Keep Imagining [5:21]
09 If You Like It [5:01]
10 No Dance [1:39]
11 Rain [5:27]