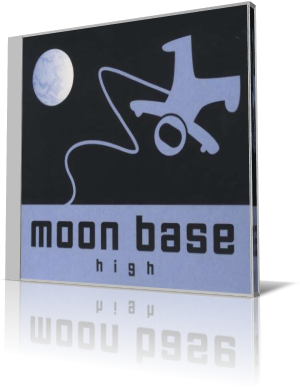 German keyboardist and songwriter Thomas Motter has already released four albums. In the center of this review is his third album entitled Moon Base (2012). Thomas comments: "On a more abstract level a "moon base" is so similar to a train station, an extraterrestrial connection station. And a meeting - in this case for musicians and lovers of jazz, funk & soul!"
Motter opens the set with Fine Tuning. With spoken words by LyricL aka Lillian Mgbado the tune gets an underground character. More in the soul realm is to find the title song featuring the lovely voice of late Helen Taylor. The ideal addition is Bill Evans on sax who completes the vocal line on his instrument with great empathy.
On Apollo Interlude Motter interferes with spacey sounds on his Roland V-Synth. Moon Cookies offers some vocal sweets with Karl Frierson served the funky way. Do Me Like A Lion featuring Menoosha Susungi must be understood as sonic piece of art. The emergence of a love relationship is outlined in catchy words, accompanied with a grippy slap bass. The refrain is placeholder for the unspoken sexual act.
Helena Paul explains her view of Jazz Music with her vibrant vocals swinging through various styles and tempos. Wave is a short interlude where Thomas is stirring up the sound kitchen in the way of Jean Michel Jarre. With 4You takes Melissa Bell the micro, the former singer of hit maker band Soul II Soul. An experienced vocal performer with the certain timbre.
Space Disco lives on the shuffle beat planet offering beat boxing, scratching, an unbelievable Menoosha Susungi and Keith Anderson with the new dimension of sax. The funky Thinkin About U presents the second edition of the mesmerizing Karl Frierson (De Phazz) and Michelle Bradshaw as female counterpart.
Menoosha Susungi charms with the cozy Anooshas Lullaby and Larry Kimpel on fretless bass serves warm undertones. Melissa Bell and Sherlyn Whittiker are the powerful duo in the tradition of soul in the style of the Pointer Sisters on Watch Out. Tongue Tied is not an instrumental, but an emotional ballade interpreted by the wonderful Angie Brown and strongly underlined by Thomas Motter on synth and drum programming. Nathan Crosse allures with atmospheric flute tones.
For the last time Turn Around brings the love theme in vocal soul feeding words. Helena Paul is the interpret of the intimate song. With the Extro Thomas Motter says musically farewell!
Thomas Motter has demonstrated with his album High that in the area of soul is still a lot going on. On his album, he has put together with great connoisseurship a selected bundle of vocal talents fostering them with his own compositions.



Buy the album in all stores




Album Information



Title: High
Artist: Moon Base
Year: 2012
Length: 1:01:56
Genre: General Dance
Label: Rodenstein Records


Tracks:
01 Fine Tuning [4:51]
02 High [5:47]
03 Apollo [2:02]
04 Moon Cookies [3:33]
05 Do Me Like A Lion [5:33]
06 Jazz Music [5:58]
07 Wave [1:00]
08 4You [5:16]
09 Space Disco [3:45]
10 Thinkin About U [4:28]
11 Anooshas Lullaby Intro [0:40]
12 Anooshas Lullaby [3:43]
13 Watch Out [4:14]
14 Tongue Tied [5:17]
15 Turn Around [5:13]
16 Extro [0:37]