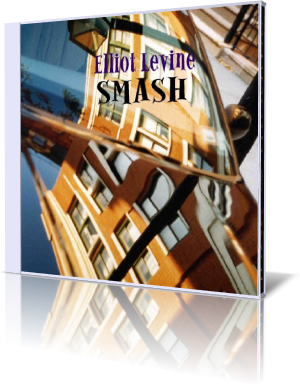 Always a smile on his face Elliot Levine is the positive mastermind in many musical formations. He toured with Wilson Pickett and Heatwave and opened for artists like Brian McKnight, Freddie Jackson, McCoy Tyner, and Gerald Albright.
His first solo project was With Light Images (1993), a jazz fusion album. On Urban Grooves (1997) Elliot entered the smooth jazz genre. Later he released Smash (2000), The Funk, The Whole Funk And Nothin' But The Funk (2004) and Live +7 (2008). All albums are now available at CDBaby.
When Eliot isn't touring with Heatwave, you can find him performing live entertainment jazz in the City View Bar & Grill, Maryland on Friday and Saturday nights.
His album Smash was released in 2000, when one could download his songs from mp3.com, at this time the leading music site especially for independent artists. Many of the music stations on this site were playing his songs and that way he got more than one million downloads in between a short time.
Time pasts by but meanwhile his album is available again at CDBaby, a good moment to review this remarkable album in our flashback. The album has a good opening with Just Chillin'. Elliot Levine unfolds his elegance on piano, while Pete Jordan adds some smoothness on soprano sax.
Two Thousand Two is another easy going tune with a mellow soprano sax inlay. Pete Jordan was also a member of the group Heatwave and is still active in the smooth jazz scene. Yeah takes Tim Jones' bass in the duty. On Boom Cha Boom (Chitta Bop Cha Bop) Elliot follows a tricky theme on piano perfectly underlined by Rodney Dutton on drums.
A journey into romance with Song For Tilley, Elliot's tribute to his cat Tilley. The Latin flavored San Juan Rhythm showcases Elliot's affinity for the Puerto Rican sound. A jazzy invitation to visit the capital city of this wonderful island. Cop Show Theme sounds like a little homage To Eric Clapton's Change The World.
Born out of an auto crash Smash reveals the raw side of Elliot's music. DJ Sir Jamm on turntables delivers some hip hop elements, while Levine keeps the smooth jazz going. The project bursts into a cover of Herbie Hancock's Rock It, dirty, gritty, brilliant.
B-More Blues gives the listeners a perfect impression of Elliot's magic treatment of the Hammond B3. In The Mix is a crazy mixture of music artistry. Funk It features saxophonist Ron Holloway who appears as a frequent special guest of the Allman Brothers Band, Warren Haynes & Gov't Mule, the Derek Trucks Band, Taj Mahal, and Little Feat. But the real star is keyboard-wizard Elliot Levine.
Rapt In The Evening Air is more experimental song with a big bunch of turntable scratching and a piano melody slowly worked out of the chaos followed by an interview with backing tracks and a keyboard solo. The album closes with Spanish Song #2, a little piano ballade with a Latin twist.
Elliot Levine's album Smash is a precious gem from the past, a worthy addition for every smooth jazz collection.







Buy the album



Album Information



Title: Smash
Artist: Elliot Levine
Year: 2000
Length: 0:59:35
Genre: Contemporary Jazz
Label: Tilley Records


Tracks:

01 Just Chillin' [4:19]
02 Two Thousand Two [3:58]
03 Yeah [3:03]
04 Boom Cha Boom (Chitta Bop Cha Bop) [3:44]
05 Song For Tilley [3:51]
06 San Juan Rhythm [3:41]
07 Cop Show Theme [2:49]
08 Smash [4:55]
09 Rock It [4:45]
10 B-More Blues [4:39]
11 In The Mix [4:42]
12 Funk It [4:32]
13 Rapt In The Evening Air [4:07]
14 Interview In The Mix [5:16]
15 Spanish Song #3 [1:13]




Further reviews

Urban Grooves

The Funk, The Whole Funk and Nothin' but the Funk