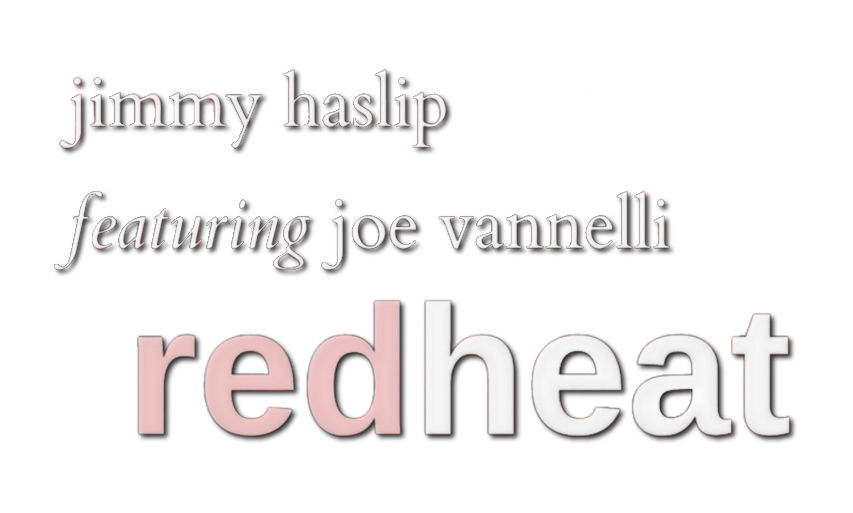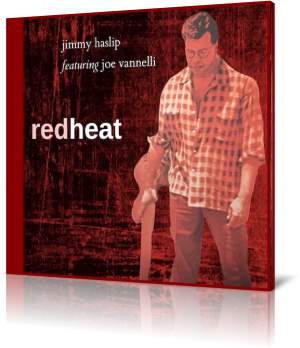 Bassist Jimmy Haslip is commonly known as founding member of the jazz fusion group the Yellowjackets. He mainly spreads his wings in the jazz fusion genre where he is involved as a sideman in numerous collaborative projects. He is also very popular as a bassist in the field of smooth jazz.
Compared to his frequent collaborations, his solo releases are somewhat sparse. His debut album
Arc
was released in 1993. His sophomore album
Red Heat
was released in 2000 on Unitone Recordings followed by
Nightfall
in 2010 on VIE Records. The latter two albums are now newly released on Blue Canoe Recordings.
Even though it is a solo album,
Red Heat
is a joint project of Haslip and Joe Vannelli. Jimmy performs on his album electric bass, acoustic bass guitar, synth bass, fretless bass, additional keyboards, drum and additional percussion programming, background vocals, horn arrangements. Joe Vannelli plays keyboards, synth bass, drum programming, additional percussion programming, horn and string arrangements.
They are supported on selected tracks by Chuck Findley (trumpets, trombones, flugel horn), Luis Conte (percussion), Mike Shapiro (drums, percussion, cymbals), Mark Craney (hihats, cymbals), Casey Scheuerell (drum set, shakers, cymbals, djembe, claps), Ernesto Diaz (cajon, congas, shekere, bongos, claps), Paul Gonzalas (cowbells), Bertrand Lehman (claps), Russell Ferrante (keyboards, acoustic piano), Otmaro Ruiz (acoustic piano), Vince Mendoza (keyboards, synth bass), Ross Vannelli (background vocals), Judd Miller (EVI), Justo Almario (flute), Gino Vannelli (background vocals), Alex Alvear and Chiara Civello (vocals).
The unusual accumulation of rhythm instruments indicates the Latin American orientation of this album. His affinity for this style of music can be explained by his origin as a child of immigrants from Puerto Rico, who learned Spanish as his first mother tongue. He learned English as his second native language in kindergarten and music as a young child.
The album opens with
Los Feliz
, with which Haslip creates new standards in the field of Latin American jazz fusion. Joe Vannelli provides a harmonious synth sound carpet, Louis Conte with his world-famous percussion art together with Haslip's bass line cheers up the music theme, while staccato brass inserts set strong accents. And then the sun rises with Jimmy's soothing fretless bass that reminds you of Jaco Pastorius and the group Weather Report. Finally Chuck Findley provides a jazzy counterweight on horns.
Calle Del Sol
is a walk through the sunny side of the street. Basically a Bossa Nova piece with some jazzy interferences.
The Heat
addresses a wide audience with his melodious guitar playing. On
The Red Sun (El Sol Colorado)
Haslip
relies on a rare musical procedure, he plays the bass over a wah-wah pedal, normally a special effect used on electric guitars.
Laguna
is a romantic bass ballad that can best be compared to the classic song
Moon River
. With
Vaya
Haslip pulls the rudder around 180 degrees. Jimmy combines local folk song with Metheny-like sound collages and Salsa excursions. That way he creates an almost surreal atmosphere that defies classification.
On the Latin rhythm swaying
Novelas
Haslip invites Venezuelan pianist Otmaro Ruiz, with whom he recently recorded the album
Elemental
. Otmaro can fully unfold his incredible talent on
She Never Has a Window (Ella Nunca Tiene Una Ventana)
.
Fuego
means Fire and Haslip launches a powerful firework of Latin rhythm.
El Morro
concludes the album stylistically consequent.
Already in 2000 Jimmy Haslip's album
Red Heat
had a unique selling point. This has not changed in twenty years since its release and new edition. Which other album can claim this? Jimmy has written music history.



Buy the album in all stores
Album Information
Title: Red Heat
Artist: Jimmy Haslip
Year: 2000/2020
Genre: Contemporary Jazz
Label: Blue Canoe Records

1) Los Feliz (6:01)
2) Calle Del Sol (4:26)
3) The Heat (4:43)
4) The Red Sun (El Sol Colorado) (4:15)
5) Laguna (5:29)
6) Vaya (6:26)
7) Novelas(5:46)
8 She Never Has a Window (Ella Nunca Tiene Una Ventana) (5:25)
9) Fuego (4:21)
10) El Morro (6:56)