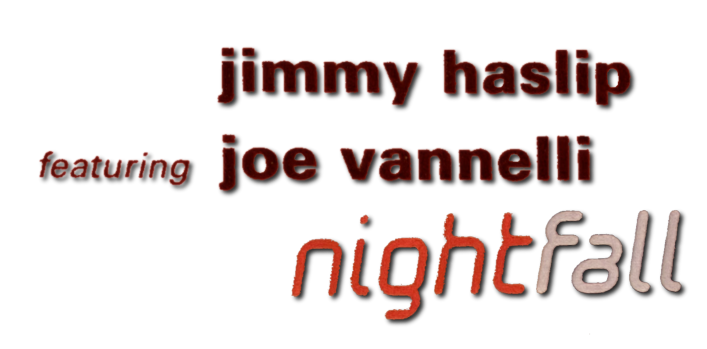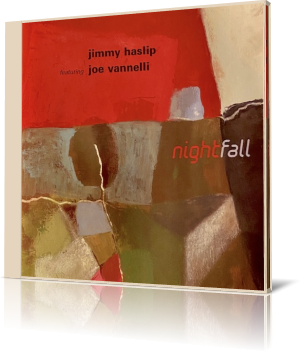 Bassist Jimmy Haslip has released in his solo career only three albums. His debut album
Arc
came out in 1993. His sophomore album
Red Heat
was released in 2000 on Unitone Recordings followed by
Nightfall
in 2010 on VIE Records. The latter two albums are now newly released on Blue Canoe Recordings.
Like its predecessor,
Nightfall
is a collaboration between Haslip and Joe Vannelli. Jimmy performs on his album electric and fretless bass, additional synths, baritone guitar. Joe Vannelli plays keys, programming, Rhodes, piano, organ, orchestration.
They are supported on selected tracks by Bob Mintzer (tenor sax), Katisse Buckingham (flute), Wayne Bergeron (trumpet), Steve Tavaglione (alto and soprano sax), Judd Miller (EVI), Jason Hann (percussion, congas), Jimmy Branly (timbales, bongo), Roger Burn (vibraphones), Ross Vannelli (acoustic guitar), Stella Castellucci (harp), Lori Perry (vocals), and The Perry Sisters (background vocals).
The starting tune
Empath
evokes a magical mixture of percussion and Jimmy's agile fretless bass enriched with Vannelli's synth sounds. The title
Xango
sounds strange and that is probably also the intention. Jimmy's bass penetrates into tonal ranges that are normally reserved for brass instruments, and there are plenty of them here.
Casa De Oro
comes with a pleasing Latin tinged melody, which stands out from the jazz fusion flavor of the two previous songs. Bob Mintzer spices it up with his tenor saxophone.
The Third Man
reminds of the British film noir starring Orson Wells. The combination of rhythmic synth bass, filtered voices, Jimmy's by Wah-Wah alternated bass, Tavaglione's exalted sax and unleashed percussion condense the atmosphere of the ungraspable.
The title song unfolds with panoramic orchestration featuring Joe Vannelli on piano as lead instrument intertwining with Haslip's colorful fretless bass.
Palo Alto
is a city located in the northwestern corner of Santa Clara County, California. The name derives from a coastal redwood tree called in Spanish "tall stick". Haslip celebrates the Spanish way of life.
Red Coral
can be reduced to a common denominator, rhythm, rhythm, rhythm. Lori Perry and her sisters are the featured singers on the gospel-tinged
Deep Waters
. They fill the song with a spirit of tasteful emotion. The final
On Sunday
has a certain smooth jazz touch and could be successful on these radio stations.
Jimmy Haslip's
Nightfall
is a remarkable project which has grown over a period of more than two years. This can be heard on the album with its great variety and passion for music. The only thing you can regret is that Jimmy so rarely releases a solo album.



Buy the album in all stores
Album Information
Title: Nightfall
Artist: Jimmy Haslip
Year: 2010/2020
Genre: Contemporary Jazz
Label: Blue Canoe Records

1) Empath (5:52)
2) Xango (5:17)
3) Casa De Oro (5:59)
4) The Third Man (4:49)
5) Nightfall (6:09)
6) Palo Alto (4:33)
7) Red Coral (5:33)
8) Deep Waters (5:19)
9) On Sunday (4:32)