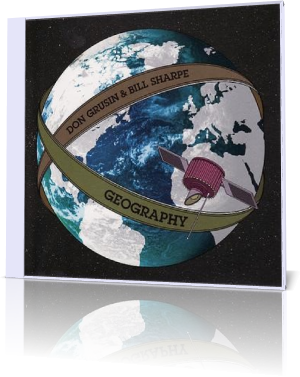 American composer, producer, arranger and pianist Don Grusin along with composer and pianist Bill Sharpe have recently released a new album called Trans Atlántica (2012). This album is available in Europe as a double-pack with Geography, which both recorded in 2006.
The duo invited to their first project musicians of the new and the old world: Till Brönner (trumpet, flugelhorn), Fridrick Karlson (guitar), Mornington Lockett (sax), Jill Saward (vocals), Nelson Rangell (flute), Natalie Rene (vocals) Charlie Bisharat (violin), Nick Cohen (bass), and Jamie Odell (programming).
The title Heat includes everything the first song has to offer. Brönner on trumpet and Don and Bill let it burn on this fast paced tune. Sunny Rainy has much of the character Shakatak is so popular for, but here and there sets Grusin his marks.
When Jill Saward rises her signature vocals like on You're In Love, then you find no difference to the original Shak's sound. Looks like Grusin was defeated by her irresistible charm. On Neo Music both keyboardists build a captivating melody perfectly supported by Nelson Rangell on flute.
Aftergro illustrates the seamless interaction of the two musicians in great melodies. On Million Years singer Natalie Rene takes the micro. Usually she prefers the Urban/R&B as on her solo album Right Now/Ahora (2002), which is still available at CDBaby. But she has also a wide heart for Latin music and smooth jazz. On her second album 30 miles she shared the studio with Don Gruisin.
Courage to unusual sound combinations prove both artists with Q-R (Question and Response). The Bomba Shack raised expectations to an impressive hit. Jamie Odell animates on Spanky Sharpe and Grusin to daring excursions on piano and keyboards.
Cuñada means in English sister in law. The Spanish-inspired piece comes at the end in incredible journey. With Adult Advisory set both a sustainable end point.
Don Grusin and Bill Sharpe have put a remarkable smooth jazz album with Geography. I can only explain with their meager tours in America, that this album is still the best kept secret.



Buy the album in all stores




Album Information





Title: Geography
Artist: Don Grusin
Year: 2006
Length: 0:45:34
Genre: General Jazz
Label: IODA

Tracks:

01 Heat [3:30]
02 Sunny Rainy [4:00]
03 You're In Love [4:29]
04 Neo Music [4:42]
05 Aftergro [3:50]
06 Million Years [4:32]
07 Q-R (Question and Response) [5:06]
08 The Bomba Shack [4:00]
09 Spanky [3:00]
10 Cuñada [4:51]
11 Adult Advisory[3:33]