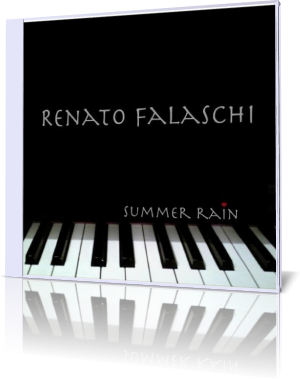 Born in Bari, Italy, pianist and composer Renato Falaschi was culturally influenced by his parents, his father was a pianist, his mother an opera singer. His brother Leonardo even a brilliant organist and pianist gave him the first piano lessons. With such a familiar springboard it was a logical step to start a musical career.
Renato embarked on a partnership with Italian television channel RAI Uno participating in many shows. Nevertheless he completed his studies at the conservatory S. Enrico Duni in Materna and at the Jazz University of Terni. Currently Renato is living in Paris and works with local and Italian artists.
Renato performed on Rocco Ventrella's album Give Me The Groove (2006), which received a rave review by our website. In January 2009 Renato released his debut project, the EP Summer Rain. Smooth Jazz friends in London had already the opportunity to admire his skills during his show at Pizza Express, Soho. Videos of this show are published at YouTube.
Renato initiates his debut album with a cover of Billy Joel's Just The Way You Are. He smoothly introduces into the theme backed by a string orchestra. After elegantly sketching the melody he shines with a jazzy piano solo showing his cornucopia of talents.
Renato isn't only an excellent pianist but also a brilliant composer. On the mellow Summer Rain he carefully outlines the melody like a blossoming flower. Melancholy in warm pastels. Traveling Lite underlines this outstanding talent, especially when Renato walks into the jazz sphere with impressive improvisation.
Renato Falaschi conceived the EP Summer Rain as specimen or foundation stone for an upcoming album. After two years we're still awaiting glad tidings. In 2010 Renato released three new singles, a cover of George Benson's Breezin', Prelude N° 1 and a rendition of Bob Merley's classic song Waiting In Vain featuring Rocco Ventrella. Now we are yearning for the final step.






Album Information



Title: Summer Rain
Artist: Renato Falaschi
Year: 2009
Length: 0:15:31
Genre: Smooth Jazz
Label: POLY RECORDS


Tracks:

01 Just The Way You Are [4:21]
02 Summer Rain [4:53]
03 Traveling Lite [6:17]