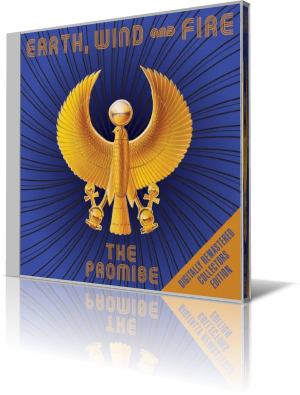 Earth, Wind & Fire is combining elements of funk, jazz, rock, and soul into an evolving form of fusion. With these many interfaces and their incredible stage presence, the group has become a legend in music history. In 2014 Maurice White, the founder of EWF, relaunched his label Kalimba Music, which was home of so many recordings of his group and supported musicians.
The label's first release is a re­issue of The Promise, a digitally remastered collectors edition of songs of EWF. This album was originally released in 2003 reaching #5 on the Top Independent Albums chart, later re-released in 2009. The 2014 Edition presents two versions of the new title Never, which appeared on smooth jazz radio in May 19.
The album gives a splendid start with All the Way. An overwhelming chorus including the Emotions with the typical horn section and the beloved Kalimba are the main ingredients for a rousing beginning. Betcha' is tailored for the ultra-high voice of Philip Bailey, known by his four-octave range and especially his overtones. The interlude Wiggle brings some Kalimba input.
The airy Why features Maurice White's impressive Baritone voice, which was together with Bailey's falsetto trademark of the EWF sound. On the gospel Wonderland the group share the vocal interpretation with Angie Stone in rich harmony.
The lovely ballad Where Do We Go from Here? is a good example for Bailey's intention, to create an emotional charm shoulder to shoulder with the fans. The interlude Freedom is a tribute to Black America's heritage. Hold Me is a further love song with great harmony. All About Love delivers a glorious reunion with the Emotions and makes the choral merger perfect. Suppose You Like Me gets points with Tollak Ollestad, whose harmonica interpretation takes Stevie Wonder's attitude. The Promise is the short connecting link to the next song.
She Waits is less convincing with the solo singer as by the harmony of the choir. Solo guitar and orchestral background are innovative elements. More Promise as Kalimba interlude. The ballad Let Me Love You connects simple text with great vocal harmonies. Dirty is to find akin to a trophy on different albums like for example I Am. Pithy Funk, which differs from the usually polished harmonic sound of the group. Final bonus tracks on this album are two versions of the new song Never featuring Gerald Albright on sax. On this Bossa Nova tinged song one can find many musical cites of former hits.
The creative power of Earth, Wind & Fire is unbroken. The Promise is a forward-looking indicator that we can expect from the label Kalimba Music more groundbreaking music.





Album Information




Title: The Promise
Artist: Earth, Wind & Fire
Year: 2014
Length: 1:01:14
Genre: General R&B
Label: Kalimba Music


Tracks:
01 All the Way [4:28]
02 Betcha' [3:43]
03 Wiggle [0:39]
04 Why? [4:04]
05 Wonderland [4:05]
06 Where Do We Go from Here? [5:21]
07 Freedom [0:42]
08 Hold Me [4:37]
09 Prelude [0:40]
10 All About Love [4:24]
11 Suppose You Like Me [4:37]
12 The Promise [0:27]
13 She Waits [5:09]
14 The Promise (Continued) [0:51]
15 Let Me Love You [4:17]
16 Dirty [3:47]
17 Never (2014 Remix) [5:11]
18 Never (Radio Edit) [4:11]