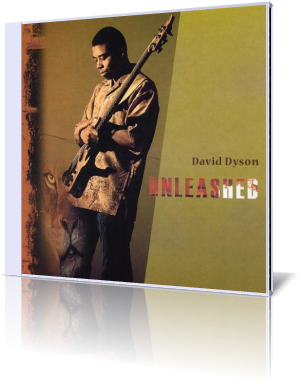 When you search a funky bass player, South Dakota native David Dyson is in the first call. He performed with a legion of smooth jazz musicians like Walter Beasley, Michael Franks, Kevin Toney, Peter White, Pieces of a Dream, Jonathan Butler, Bob James and many more.
David loves his life, his family and touring around. He is an excellent sideman, unpretentious but on the point, when his bass is asked. His solo albums are Soulmates (2000), The Dawning (2004) and Unleashed (2008). Reading the liner notes of his albums one will immediately remark, that David is a multi-instrumentalist, a composer, and arranger. Even recording and mixing are under his control.
David introduces into his work with The Lion's Den. There is a strong affinity between the funk and David's signature slap bass. David takes the rhythmical well-appointed melody and transfers the bass line to a higher level.
On the path of Jaco Pastorius David presents the atmospheric Forever Is Now. Two bass voices melted in overdub style revolve around the theme. The bass loaded Lovely One features Marshall Keys on soprano sax, deep bass and high sax in tension.
With French Toast Dyson claims a moody jazz perfectly assisted by Russell Gun on muted trumpet. Obviously suggests the timbre of Dyson's bass this neighborhood to jazz. On Hot Sauce David goes one step further to the spicy mixture of jazz and funk. Lorenzo Johnson's synth stays respectfully behind, but sometimes peaks out with high tones.
David is a bon vivant. On his facebook page he regularly posts pictures of delicious meals. Coco's Butter Cafe is David's favorite place, so he dedicated the next song to this little paradise. Rapidity and bass mastery on Unleashed! are going far beyond your expectations. A new reference!
On this new project are several interludes like Quick Witted in two versions and One Skittle. Little gems. Southern Fried Go Go exposes Fred Yonnet on harmonica. Fred is currently touring with Prince, Mike Phillips and Stevie Wonder. He is also working on his upcoming album Read My Lips featuring the harmonica as the lead.
On the moody New Horizons David presents two stars of the smooth jazz scene, Rick Braun on trumpet and Dwight Sills on guitar. The Grey Zone is like most of the other tracks focused on Dyson's various bass guitars. David hums along the melody like George does it with his guitar.
Everybody has some dreams. Some can be fulfilled some never. David Dyson's personal imagination of The Dream is recorded as next tune. That's It, That's All is David's parade on the fretless bass assisted by Brian Mills on sax and Vince Evans on the funky Rhodes.
David Dyson's Unleashed serves a great portion of all sorts of bass. Bon appetite for bass lovers.





Buy the album in all stores

Album Information



Title: Unleashed
Artist: David Dyson
Year: 2008
Length: 1:04:45
Genre: General Jazz
Label: Lil Doc Productions


Tracks:

01 The Lion's Den [3:42]
02 Forever Is Now [5:20]
03 Lovely One [5:23]
04 French Toast [5:21]
05 Hot Sauce [4:22]
06 Coco's Butter Cafe [2:53]
07 Unleashed! [4:18]
08 Quick Witted [1:44]
09 Southern Fried Go Go [5:10]
10 New Horizons [4:26]
11 One Skittle [1:35]
12 The Grey Zone [5:06]
13 The Dream [4:18]
14 That's It, That's All [4:51]
15 Quick Witted (Go Go Remix) [1:57]
16 Hot Sauce-Extra Spicy (Bonus Track) [4:20]