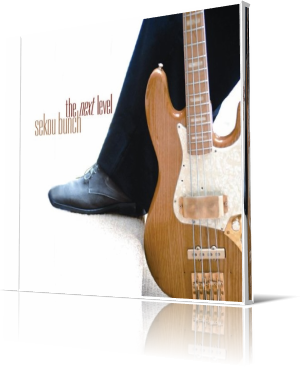 New York City born bass player Sekou Bunch worked together with Tom Browne, when he recorded the hit
Funkin' For Jamaica
. has performed and/or recorded with Quincy Jones, Rod Stewart, Stevie Wonder, Roger Daltry, Whitney Houston, Michael Jackson, Luther Vandross, Anita Baker, Ray Charles, Chaka Khan, Paul Anka, George Benson, Wayne Shorter, the Winans, Lionel Richie, Toni Braxton, Freddie Hubbard, Roberta Flack, Liza Minneli and many others.
In 1991 he released his first solo debut album
Sekou
. His sophomore album
The Next Level
followed in 2008 on Trippin 'n Rhythm. The album contains a harmonious balance of covers and original compositions. Starter is a rendition of
Sun Goddess
, the original 1974 classic collaboration of Ramsey Lewis & Earth, Wind & Fire. Sekou has assembled the perfect team with a strong Everette Harp on sax and an overtopping Stanley Clarke on tenor bass, and vocalists Fred White and Lamont Van Hook serving the typical EWF voicing.
The romantic
Smooth Sailing
is star-studded with singer Angela Winbush and saxophonist Boney James. The jazz standard
Take Five
, composed by Paul Desmond and originally recorded by the Dave Brubeck Quartet for their 1959 album
Time Out
, is a frequently covered cultural asset of the jazz community. On
Take Five / In Three George Duke
shines on piano, while Sekou with his defined bass caresses the tones with relish.
Donít Take Too Long
features singer Brooke Lynne Bunch in a sweet ballad with a finely orchestrated orchestral background.
Everything I Miss At Home
is a tribute to Sekou's late friend George Howard. While Steve Alaniz (sax) and George Duke (Mini Moog) serves the sweetness, Sekou places himself as a virtuoso on Fender bass.
Haters
features rapper Sean Patrick Thomas with a rock steady refrain and Sekou doing the Marcus Miller thing.
Essence
is an homage to late singer legend Luther Vandross, where Sekou brings out the fine nuances of his bass.
Ploom Ploom Ploom
is a superb collaboration with the Ellegua Vocal Choir, steel pan player Robert Greenidge and pianist Otmaro RuŪz, and flutist Steve Alaniz creating an ultimate Latin jam festival.
Funkabilly
features violinists Mads Tolling and Karen Briggs in the direct furious race with Sekou Banch on a piece with an Irish touch. The perforce ride continues with the jazz fusion excellency
The Return of Superman
featuring Kim Hansen on synth, George Duke on piano, Rayford Griffin on drums, Everette Harp on sax and Sekou Bunch on Fender bass.
Jimi Hendrix's
Purple Haze
features with Thomas Organ on steel guitar, Jimi Macon on guitar and Sekou Bunch three masters of string instruments at once. In addition, saxophonist Everette Harp and Sheila Escovedo on timbales, that bangs.
With
The Next Level
, Sekou Bunch has created an extremely elaborate and versatile album that has no equal. Nowadays hardly any artist can afford such an expensive production in this genre. High time to unearth this treasure from the past.



Buy the album in all stores
Album Information
Title: The Next Level
Artist: Sekou Bunch
Year: 2008
Genre: Smooth Jazz
Label: Trippin 'n Rhythm

1 Sun Goddess 4:11
2 Smooth Sailing 4:17
3 Take Five / In Three 5:07
4 Donít Take Too Long 3:17
5 Everything I Miss At Home 4:08
6 Haters 4:52
7 Essence 6:07
8 Ploom Ploom Ploom 5:15
9 Funkabilly 5:25
10 The Return of Superman 6:30
11 Purple Haze 4:31