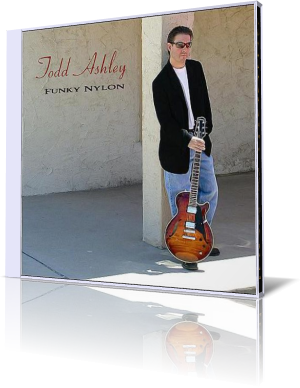 Southern California born guitarist Todd Ashley graduated at the Guitar Institute of Technology, where he developed his unique "ruff jazz nylon-string style". Inspired by Steve Oliver, Ken Navarro and Earl Klugh he made his debut with the album Sedona (2003).
Opening for Mindi Abair, George Benson, and Dave Koz you find Todd Ashley at venues like La Quinta, Rancho Mirage, Palm Desert, Malibu or Santa Barbara. His second album Funky Nylon was released in October, 2010 featuring some of the top artists including Will Donato, Bert Vela, Baba Elefante, Jason Weber, Rod Kokolj, Craig Chesnut, Steve Madaio, and Jeff Stover.
With the exception of Black Orpheus Todd has written all the songs. Todd plays keyboard, bass, guitar and sequences the drums on a handful of tracks. First song of the album The Coug is also the single, which climbed to #18 on the Groove Jazz Charts. While Todd plays smooth guitar riffs, sax player Will Donato and trumpeter Steve Madio supports with an excellent horn arrangement. Also superb Johnny Meza on piano.
American jazz guitarist John Leslie "Wes" Montgomery had a tremendous influence on several generations of guitar players. Going Wes pays tribute to this guitar icon. Jason Weber, who recently made waves with the new album Bringin' It, excels with a short sax solo.
More characteristic for Todd's style is Funky Nylon, when Todd performs the Nylon guitar in his unique edgy way. Johnny Meza on Hammond B3 and Abie Perkins on Clavinet add the vintage sound to make the piece dirty and funky. Changes is all about guitar. With changing chords Todd builds the melody in progression.
On Too Hip Ashley's relaxed guitar performance makes him a first choice. Steve Madio's muted trumpet levels the song to a supernatural element. My Beautiful Girls delivers contagious joie de vivre among the audience. Guitabla takes a mouthful of Indian music. Hayley's Song offers romantic atmosphere with Tedd's Spanish flavored acoustic guitar and Jason Weber's cozy soprano sax.
Antonio Carlos Jobim and Luiz Bonfá cultivated a delicate, precise classical guitar style with a intriguing Samba flavor. Bonfá composed this tune for the movie Black Orpheus (1959). The title of the original tune is Manha de Carnaval. Todd's interpretation makes a very personal impression by using the mandolin as lead instrument. A musical trip to the Orient is very popular. Taka Taka beckons with exotic charms.
Todd Ashley's Funky Nylon delighted with uncompromising diversity. This musician deserves a bigger audience.





Album Information



Title: Funky Nylon
Artist: Todd Ashley
Year: 2010
Length: 0:52:36
Genre: General Jazz
Label: Ruff Jazz Records


Tracks:
01 The Coug [4:36]
02 Going Wes [4:38]
03 Funky Nylon [4:28]
04 Changes [3:50]
05 Too Hip [5:27]
06 My Beautiful Girls [4:35]
07 Guitabla [5:30]
08 Hayley's Song [3:52]
09 Black Orpheus [6:31]
10 Taka Taka [5:37]
11 The Coug (Radio Edit) [3:33]