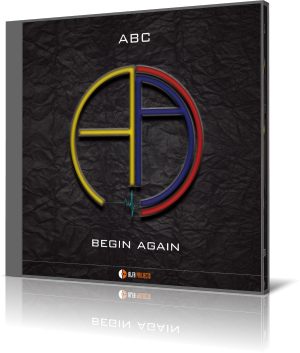 The Italian trio ABC (Alchemy Brotherhood Cheerfulness) consists of Sebastiano Marino (piano and keyboards), Jacopo Ferrazza (electric bass) and Luca Fareri (drums).
Begin Again
is their debut album and was released in 2018 on AlfaMusic.
Sebastian lives in Rome as artist, piano player, composer, teacher, music lover. His newest project is the Sebastian Marino Trio with the different drummer Valerio Vantaggio, who replaced Luca.
Jacopo was born in 1989 in Frascati, a city near Rome. Jacopo is an acoustic and electric bass player and pianist as well. He's graduated in classical bass and classical piano from the Italian conservatory of Frosinone "Licinio Refice". Jacopo has recorded two albums as a leader for the CAM jazz label. He has also collected various experiences as composer and teacher.
Luca was born in La Spezia on January 7, 1982. After his studies he worked in different bands and formations. Among them Quartino, Shaggy Dog Story Group, Ultrasuono, Rubiera Blues, Giorgia Paradiso, Carmine Migliore, Curvatura 9 and many more.
The trio comments the album: "We started from a more acoustic idea of ​​the songs, but almost immediately we felt "limited". This is why we went along with our "electronic" need by inserting the keyboards, so as to create even more varied sound worlds that could reflect as faithfully as possible the atmospheres we had imagined for our songs. The album, made completely independently, from recordings to mastering, allowed us to follow each phase of the project personally and without any limit, shaping it according to our ideas and needs.
Begin Again
tells everything about us, there is our artistic truth, so we were not afraid to get naked "
The album opens with
Pita's
(a sort of flatbreads). The music is fast, variable, bebop-like with strong electronic impact. Virtuosity paired with a strong jazz fusion element provides the maximum of musical information.
Taking the Trail
follows the same musical concept but includes slow melodic interludes, which also serve as a calming point between the ecstatic cadenzas.
A Silent Drop
allows the listener to relax with a quieter theme.
The First Time
increases the tempo again, whereby the group leaves out its virtuosity on a short melody sequence, which is repeated in variations in the shortest possible time.
Begin Again
is consistently pursuing the electronic fusion path. Whether the keyboardist Jeff Lorber or rather Keith Emerson has more in mind?
2015
was the year, when the trio was founded and as a tribute they serve a thoroughly engaging smooth jazz melody.
Juntos
is the Spanish word for a small, usually secret group united for a common interest. The group chose this title deliberately, because the piece has clear Spanish references up to the allusion of Salsa.
With
Fragile Life
, the trio interprets the vulnerability of our lives in an acoustically sustained piano piece.
Alma Latina
is a Latin Jazz theme whose style reminds me somewhat of the late New York pianist Joseph Diamond.
Sospiri
means in Italian "Sigh". This expression of an emotion of sorrow heralds another piece of music in Adagio.
The last tune is called
A Dorso D'Asino
(On The Back Of A Donkey), probably rather the only piece that satisfies the one in need of harmony.
Begin Again
is an ambitious album by Italian fusion jazz musicians who have fully and genuinely realized their vision of music.



Buy the album in all stores

Album Information

Title: Begin Again
Artist: ABC
Year: 2018
Genre: Contemporary Jazz
Label: AlfaMusic


1) Pita's (3:35)
2) Taking the Trail (3:44)
3) A Silent Drop (3:36)
4) The First Time (3:27)
5) Begin Again (4:01)
6) 2015 (3:52)
7) Juntos (4:41)
8) Fragile Life (4:12)
9) Alma Latina (4:52)
10) Sospiri (3:23)
11) A Dorso D'Asino (3:40)