| | |
| --- | --- |
| Archive | |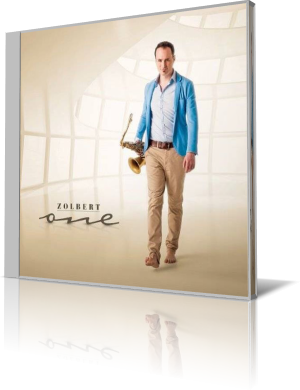 Smooth Jazz is spreading worldwide, including in Europe. Coming from Hungary young saxophonist Zolbert presents his debut album One (2015). He calls as his idols and inspirations Grover Washington, Jr., David Sanborn, Everette Harp, Dave Koz, Gerald Albright and Brian Culbertson.

With the Grover Washington, Jr. Memorial Band he is playing regularly in Budapest and also in Switzerland. Supported by 90.9 Jazzy, Budapest's leading jazz station he soon earned a contract with Tom-Tom Records, one of Hungary's best-known independent labels.
Zolbert is joined on the recordings by a major league of Hungarian musicians listed below. With Smile Zolbert launches his charm offensive. Melody, rhythm and arrangement are oriented to the fashionable conventions of the genre. Frappé is French and comes from the verb frapper which means to hit. The shaking and mixing is presented by keyboard sound and forms the basis for a refreshing music.
The Time Has Come is a prophetic announcement and is musically implemented with a fast pace. On Just a moment is to hear how perfectly Zolbert processes his sax in overdubs. The energetic piece is also the ideal platform to present all band members with their solos. When you remember Dr. Hook's song Sexy Eyes, then you know the shuffle beat, which runs like a thread through the title song One. From the obvious to detail꞉ a lovingly created piece of music.
The hooky Shine
has a steady going flow spreading really good mood. Above the Clouds let the senses hovering free from the worries of everyday life. With reverb and a keyboard theme in the style of The Art of Noise things are going well. On My Way shares a veritable melody with an interesting percussion. Friendship impressed with a commanding theme that is executed in a convincing way. Zolbert gives from soprano to baritone all his instruments a powerful blow.

Everyday nestles marvelously to traditional smooth jazz. A Song for You is a warm loving ballad that reaches its destination authentically.

Zolbert's debut album One radiates perfection and sovereignty that can withstand any comparison. Pleasantly is noticeable that the music was recorded with real instruments waiving any frills like drum programming or samples.




Buy the album in all stores

Album Information

Title: One
Artist: Zolbert
Year: 2015
Length: 0:40:38
Genre: Smooth Jazz
Label: Believe Digital


Tracks:
01 Smile [3:36]
02 Frappé [3:04]
03 The Time Has Come [3:19]
04 Just a Moment [3:24]
05 One [3:57]
06 Shine [3:35]
07 Above the Clouds [4:00]
08 On My Way [4:09]
09 Friendship [3:35]
10 Everyday [3:40]
11 A Song for You [4:20]




Péter Ferencz (Peet) - add. keyboards, synth bass (2, 7, 10), guitar (2, 3, 10), vocals (6), e. drums (2, 7), effects & loops

Marcell Tóth - piano, rhodes, hammond, clavinet, synths

Tibor Riskó - guitar

Dávid Szedlár - bass guitar (1, 4, 6, 9)

Tomi Heilig - bass guitar (5, 8, 11)

Gergő Kovács - bass guitar (3)

Áron Nyírő - drums (3, 4, 6, 8-10)

Zsolt Nagy - drums (1, 5, 11)

Miklós Markos (Mikee) - percussion (1, 3-5, 7, 8, 10, 11)