| | |
| --- | --- |
| Archive | |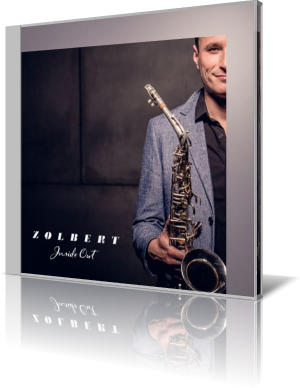 Hungarian saxophonist Zolbert has entered the smooth jazz stage with his debut album One in 2015. Now he returns with his sophomore album Inside Out (2017).

Zolbert performs on the new album soprano, alto, tenor, baritone sax, and percussion. Players on selected tracks are fresh from the famous Hungarian jazz scene Péter Ferencz aka Peet (keyboards, synth bass, guitar, vocals, violin, drums), Marcell Tóth (piano, Rhodes, Hammond, clavinet, synths), Tibor Riskó and Gábor Udvarhelyi (guitar), Martin Gudics, Gergő Kovács and Dávid Szedlár (bass), Laci Balog, Marcell Gudics and Zsolt Nagy (drums), Miklós Markos (percussion), Áron Koós-Hutás (trumpet, flugelhorn) and Nikolas Takács (vocals).
The album gets a furious start with the uplifting Be Cool. Zolbert shows an extraordinary smooth jazz muscle with fast and precise intonation and Peet gives the song with a spontaneous outburst of a demanding Be Cool a nice edgy flavor. Step By Step fuses elements of funk and contemporary jazz that effortlessly transcends strict categorization. An amazing hybrid of genres created in depth and harmonic richness.
Trust ticks the romantic body region. Avoiding mercifully the overdub procedure Zolbert relays on the magic of his instrument. Tap your feet, clap your hands. That is the entertaining motto of Say Something following the rhythmical path of the monster hit Happy. The use of the soprano sax Mr. Serious usually implies dreaminess or romance, but Zolbert opens the window to a vibrant alternative. Gábor Udvarhely adds adventurous alternative rock phrasings on guitar.
With incredibly soulful vibe Zolbert intonates Sunset at the Hilltop reaching with emotional approach the audience. With variations of different saxophones he keeps the sound invigorating. On Don't Look Back he shines with perfect harmonies. Touching offers a walk along the sonic spectrum of new age with ambient and spherical sound. Zolbert is a pronounced connoisseur of the smooth jazz style and he is able to implement his knowledge perfectly. Come with Me is a prime example for this fact.
Heads Up comes with a big hoo-ha and glamorous percussion instruments. A song with an eclectic character thanks to the distinctive and far-reaching rhythm. Give your mom a big kiss, that suggests The Moment, a cozy ballad. The passion for the special harmony finds its precipitation in Say Goodbye. Áron Koós-Hutás on trumpet and flugelhorn wonderfully intertwines his sonic sound with Zolbert's sax. Miami Nights is the only vocal tune on the album featuring Takács Nikolas, who impresses with his vocal power sending a shiver down your spine.
Zolbert pulls with Inside Out no sonic rabbit out of the hat. Although all performing musicians are from Hungary his sound can directly be applied to the Californian smooth jazz style. Zolbert is embracing the music and impact that this genre has to sound today and he plays his key roll in keeping the spirit of the music alive and well.




Buy the album in all stores

Album Information

Title: Inside Out
Artist: Zolbert
Year: 2017
Total Time: 00:51:23
Genre: Smooth Jazz
Label: Tom-Tom Records


Tracks:

01. Be Cool
02. Step by Step
03. Trust
04. Say Something
05. Mr. Serious
06. Sunset at the Hilltop
07. Don't Look Back
08. Touching
09. Come with Me
10. Heads Up
11. The Moment
12. Say Goodbye
13. Miami Nights (feat. Takács Nikolas)


Further review:

One