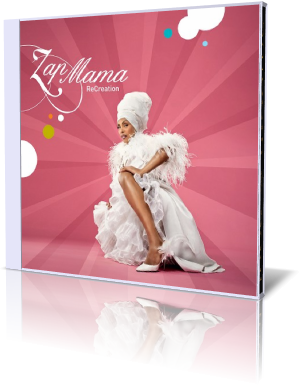 Zap Mama, African queen, creator of African European music, exotic pop wonder. Marie Daulne created the project "Zap Mama" during the beginning of the 90's with an a cappella group of Afro-European women. Born in the Congo to an Belgian father and an African mother Marie Daulne brings together natural beauty and music, the music of two continents and the hearts of thousands of fans. Daulne specializes in polyphonic, harmonic music with a mixture of heavily infused African instruments, R&B, and Hip-hop.
With this concept she recorded the World Music releases Adventures in Afropea (1991/1993), and Sabsylma (1994). While the first albums were a capella, Marie Daulne changed her style with the third album Seven (1997) to a more instrumental profile. Next albums were the experimental A Ma Zone (1999), and after her move to New York Ancestry in Progress (2000). In 2004 she moved back to Belgium. Her debut on Heads Up International was Supermoon (2007) now followed by ReCreation set for worldwide release on May 26, 2009.
Marie explains the title: "That moment when you are relaxing and enjoying yourself, is the perfect moment to create a new person within yourself – to heal yourself and let go of all the negative aspects of your life. In those times when you relax, you recreate yourself."

We immerse in the magical world of Zap Mama with ReCreation preparing for the musical miracles. Do you hear the heartbeat of Africa? Then listen to Vibrations. The pulsing bass, the dark drums, Marie's luscious vocals are carving lines into the wooden tree of life. Marie is back in the heart of Congo's jungle.
Singing Sisters features Marie Daulne, Sabine Kabongo and Sylvie Nawasadio in a sensational and innovative a capella demonstration with a big jazzy impact. A historic treat of the original a capella lineup of the early '90's. Marie comments: "Sabine and Sylvie and I sang together on the first two GRAMMY®-nominated Zap Mama albums," says Daulne. "That was the original sound of Zap Mama music – pure voices used as instruments. I started my career with these two women – along with two others, Marie Cavenaile and Cecilia Kandonda. The five of us were like the five fingers of a hand – all individuals but all working as one. I still think of them as sisters. Fifteen years later, this original sound and period has been recreated."

Marie inhales the Latin vibe with Hello To Mama and a strong support of Bashiri Johnson (perc), Anthony Tidd (bass, piano, guitar), Danny Freiberg (piano) and last but not least the Trumpetisto from Miami. Do You Wanna? is the final dream of every Latin percussion fan, each instrument is dedicated to the rhythm.
In the African tradition The Way You Are is featuring Zap Mama in a duet with Bilal Sayeed Oliver. Smooth, elegant and heinous. Paroles Paroles was composed by Gianni Ferrio, the conductor of the "Teatro 10" orchestra. The Italian "Teatro 10" was a series of TV variety nights. The song became popular by Dalida with Alain Delon in the French version (1973). Zap Mama's version melts into caramel and chocolate. Smoothness and expression at its best.
On Drifting Marie Daulne shares her vocal emotions with G. Love. "Drifting," a story of what happens to a relationship when a man – a musician in this case – spends much of his time on the road. "This song was born in the middle of the night," Daulne recalls. "I woke up and I had this melody in my head. Everything was there – the melody, the beat, everything. It was not me who was composing. The song was given to me by some musical spirit. I just executed the order."

Although African Diamond has its roots in African beats, one will finds seldom gems in the uneven course of the song. Meshell Ndegeocello (Wild Night) adds her pulsing bass line and G. Love his significant harmonica chords. Harlem reunites the vocals of Marie Daulne, Sylvie Nawasadio, Miss Camille and Sabine Kabongo to an explosive French/English mixture.
Togetherness is not only a song, but Marie's philosophy of life and lived attitude. That said her impressive voice is integral part of a colorful picture consisting of a conglomerate of vocals and instrumentals with the ultimate hooking power. Awesome the end of the song, walking on the wild side.
Non, Non, Non features anew Monsieur Douce Vincent Cassel. "This is a song about flirting," Marie explains. "The man is saying, 'Will you stay with me?' and the woman says, 'No, no, no…' They want to be together but won't really take the plunge. He keeps asking her, 'Stay with me, stay a little longer.' It's about the flirtation with things that are forbidden."
Final tune of this remarkable album is Chill Out starting with a classical motive turning into an infectious song. Daulne declares: "When we perform it live, it will be beautiful. I'm going to invite people to dance. When people come to a Zap Mama concert, they will learn how to dance." Isn't life a great dance?

ReCreation is revelation. This album opens a new view to the world of Africa. Expect the unexpected. Be surprised by musical attraction far beyond your experience. Zap Mama is a indeed a renewal of your senses.

Album Information

Title: ReCreation
Artist: Zap Mama
Year: 2009
Length: 0:47:12
Genre: General R&B
Label: Heads Up International


Tracks:

01 ReCreation [1:16]
02 Vibrations [3:28]
03 Singing Sisters (Featuring Sylvie Nawasadio And Sabine Kabongo) [3:40]
04 Hello To Mama [4:03]
05 Do You Wanna? [3:46]
06 The Way You Are (Featuring Bilal) [4:22]
07 Paroles Paroles (Featuring Vincent Cassel) [4:30]
08 Drifting (Featuring G. Love) [3:41]
09 African Diamond (With Tony Allen And Meshell Ndegeocello) [4:11]
10 Harlem [2:41]
11 Togetherness [4:57]
12 Non, Non, Non (Featuring Vincent Cassel) [3:51]
13 Chill Out [2:46]