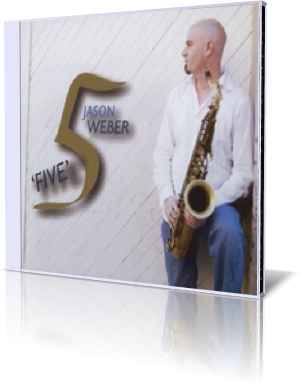 Graduated from the University of Wisconsin in 1994 Jason Weber is since a long time an integral part of the San Diego jazz scene. He started his solo career with 1st AVENUE in 1997, followed by Leap of Faith (1999), Something Blue (2002), Can U Feel Me Now? (2005) and this year Five.
On his new album Jason is supported by drummers Steve Ferrone and Duncan Moore, keyboardists Michael Leroy & Tad Sisler, bassists Nathan Brown & Chris Kringel, & guitarist Mike DeRose. Jason wrote most of the compositions in part with producer Marcel East. Guitarist/songwriter/producer Marcel East is Nathan East younger brother, working with Nathan on numerous projects including Fourplay, Al Jarreau, David Benoit and more.

The album starts with the apodictic U Know U Like It. Indeed this compelling tune offers an addictive melody which let's you prick up your ears. Jason and Marcel East composed For The Children for those who will follow us and will hopefully have a better childhood than Michael Jackson.
Jason Weber follows the often observed practice to record a cover on his album. La Isla Bonita is a popular song of Madonna recorded in 1988 for her album True Blue. Her first pop song with Spanish influence.
With Snapshot Jason builds a fundamental stone in his contemporary jazz fundament. Some improvisations are woven in the melody line. Some Day is a heartfelt melody with a romantic appeal. Mysterious Circumstances is a song with a narrative background in the style of a film score.
The title song Five woos recognition with some urban elements. Jason burns the wall down with his maniac performance. A short Interlude introduces the audience to Europa. Carlos Santana's infectious bolero finds many friends in the smooth jazz scene. Jimmy Sommers (Time Stands Still), Nils (Up Close And Personal), Marc Vee (Inspiration) or The Barry Sea Paradox (Lost Soul Found Smooth Jazz), they are all inspired by this song. Jason's rendition is emotionally charged.
You Gotta Be, a song by British pop and soul queen Des'ree has a captivating potential. The song climbed the charts several times. Skillfully uses Jason the magic of this song for his own spellbound. A mantra is a religious or mystical syllable or poem, its origin is in Sanskrit. Jason's song dives deep into that exotic Asian world. The final D-Funked shows more of the edgy side of Jason's group. Mike Derouse pushes the tune into the rock corner.
Jason's new album Five is a balanced package of ambitious contemporary and popular smooth jazz. We don't know in which direction the music express is driving.






Album Information

Title: Five
Artist: Jason Weber
Year: 2009
Length: 0:53:45
Genre: General Jazz
Label: Jayk Weber Music


Tracks:

01 U Know U Like It [3:44]
02 For The Children [4:57]
03 La Isla Bonita [4:40]
04 Snapshot [5:40]
05 Some Day [4:51]
06 Mysterious Circumstances [3:29]
07 Five [5:16]
08 Interlude [1:03]
09 Europa [4:21]
10 You Gotta Be [4:02]
11 Mantra [6:12]
12 D-Funked [5:30]




Further Review