| | |
| --- | --- |
| Archive | |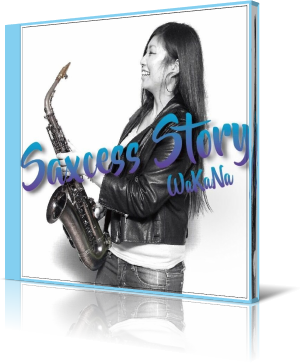 Chiba, Japan born saxophonist WaKaNa is member of the upcoming band LUCA and in Korea and China of the band IN YA MELLOW TONE. Her first solo project is Saxcess Story (2018). The album was produced by keyboardist Greg Manning, who also performs on six of the eight tracks.
WaKaNa seamlessly joins the smooth jazz sax community with the fresh and modern I Told You So. Adam Hawley adds a funky rhythm guitar beat and Greg Manning delivers a fashionable environment on keyboards and programming. WaKaNa's intonation on alto sax is strong, unadulterated and superb.
With elegant beauty WaKaNa absolves the Saxcess Story in organic conversations of melody and counterpoint. Her lively music is up to date and will certainly reach the attention of the smooth jazz audience. Greg peps up the song with furious solo interludes. Pillow Talk is a central theme in the smooth jazz genre. WaKaNa shows up with a very emotional interpretation perfectly supported by Adam Hawley on his intuitive guitar.
Fly High is a successful collaboration between WaKaNa, bassist Roberto Vally and re:plus. The latter is pianist and sound producer Hiroaki Watanabe. His debut album Everlasting Truth continues to shine as a monument of the hip hop scene. On Downtown Jam WaKaNa and trumpet player Gabriel Mark Hasselbach pull out all the stops showing a solidly constructed horn arrangement.
Wakana seems to have a particularly intimate relationship with her Hometown, for her song exudes a lot of heart warmth. Let's Get Together features Péter "Peet" Ferencz who already celebrated many successes with his group Peet Project. Their duo is cutting edge and dots the smooth jazz landscape. Have Never Seen is a beautiful lyrical composition in performance with guitarist Carlyle Barriteu.
WaKaNa is a new aurora on the smooth jazz sky. Coming from the land of the rising sun she enlightens the smooth jazz genre with her radiant talent.




Buy the album in all stores

Album Information

Title: Saxess Story
Artist: WaKaNa
Year: 2018
Genre: Smooth Jazz
Label: Independent


Tracks:

1. I Told You So 4:19
2. Saxcess Story (feat. Greg Manning) 4:25
3. Pillow Talk (feat. Adam Hawley) 5:24
4. Fly High (feat. Re:Plus) 4:45
5. Downtown Jam (feat. Gabriel Mark Hasselbach) 4:15
6. Hometown 5:20
7. Let's Get Together (feat. Peter "Peet" Feremcz) 5:16
8. Have Never Seen 2:36