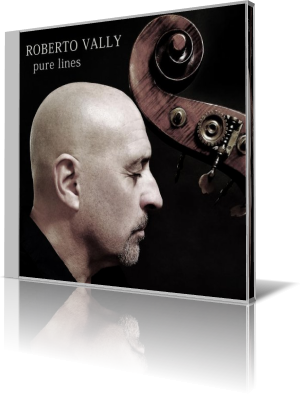 Brooklyn born, L.A. based, and world influenced bass player Roberto Vally calls as his influences Paul Jackson, Stanley Clarke, and Jaco Pastorius. He has played with Michael Franks, Bobby Caldwell, Paul Brown, Boney James, Boz Scaggs, Arturo Sandoval, Michael Lington, and Randy Crawford. Meanwhile you can add the rest of the smooth jazz cats to this list.
His first solo album was Boom Boom Boom (2013), described by Vally as an eclectic mix of chill, lounge, world, and smooth jazz. His sophomore album Pure Lines (2017) just hits the stores. The album is a collaboration of Roberto Vally and Jeff Carruthers, who performs keyboards, guitars and programming.
As additional musicians are mentioned in the liner notes Dave Karasony (drums), Enrique Martinez (accordion), Andrew Neu (sax), Marc Antoine (guitar, vocals), Michiyo Kitagawa (sax), Tom Schuman (keyboards, piano), Gregg Manning (keyboards), Ramses Araya (percussion), Paul Brown, Carlyle Barriteau, Federico Ramos (guitars), Nick Cedillo (trumpet, sax, trombone), Fabiana Passoni (vocals), and Christine Carruthers (background vocals).
Robert takes us on his dream trip with Come With Me. Although it is the album of a bassist, the bass does not push itself into the foreground, but holds back elegantly with acoustic noblesse. Keyboardist Greg Manning assumes the role of lead instrumentalist with natural verve. Andalusia, the southern community in Spain, is rich of cultures, Hispano-Moorish architectural styles and the flamenco. Andaluzia, is the Portuguese term of this region and Roberto's musical emulation of Spanish attractiveness. Enrique Martinez on accordion and Jeff Carruthers on guitar add fine-drawn depth and texture to the Spanish flavor.
The rhythm emphasized Jungle Lounge beats with the machete of virtuosity through the leaf forest of average creating the ultimate path of exciting groove. Namarados is the Portuguese word for boyfriends. In the absence of an understanding of this language, we can only grasp this song on the emotional level. We are helped immensely in this undertaking by Roberto's resounding bass and the inimitable voice of Fabiana Passoni.
Via Flamenco is the connecting link between regions, civilizations and religions. With a wealth of creativity and imagination emulgates European and Arabic culture to the magic of music. Vinnie's Vendetta is an onomatopoeic description of the chilling sound structure expertly chiseled by accordion and acoustic bass. Roberto raises the game with Bougarabou, the word for a set of drums commonly used in West Africa. Roberto didn't search the literal approach but successfully reached the tribal intenseness of its ethnic environment.
The vivacious passion of Tango Nuevo is authentically celebrated by Roberto on bass, Enrique Martinez on accordion, and Federico Ramos on guitar. The fervent embrace of two intimate dancers finds its soulful harmony and unison consonance. The sonic foray Rude Boy drives into reggae land. The stint is guided by Nick Cedillo on everything that sounds like a good horn. My Sweet Grace is merging emotionality and intelligence on the highest level, a cool chill out tune featuring Carlyle Barriteau on guitar.
Pure Lines is as far away from predictability as the North from the South Pole. An album that gives the bass its rightful place, and the listener an incredible incentive. Roberto Vally deserves our utmost respect and recognition for this piece of true passion for music.