| | |
| --- | --- |
| Archive | |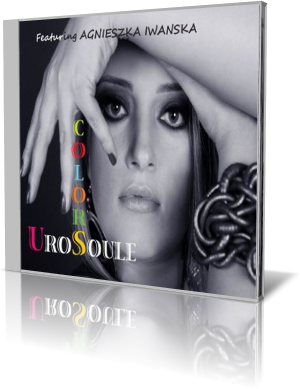 Jazz vocalist, composer and lyricist Agnieszka Iwanska is a graduate of the Jazz Studies program at the University of Katowice, Poland. Currently she is living in Chicago, where she formed her own band. In collaboration with keyboardist/composer Paul Scherer she recorded her debut album All That I Am (2009).
Now she is back with her sophomore album Colors (2013). She shares music with Paul Scherer (piano, keyboards, percussion), Cooke Harvey (bass), and Paul Townsend (drums). Guest musicians are Dave Schiff (sax, flute), Don Schiff (ns stick), Freddie Franken (guitar), Dan Graper (guitar), and Bob Kase (flugelhorn).
I confess that vocal jazz is not for everyone. However, the accompanying musicians are playing at such a high level that even instrumentalists will enjoy this album. Moreover Agnieszka merges with her ​​musicians to form a unit. So melt all caveats after the first sounds.
Desert Wind is a song whose harmony captures immediately. Obviously keyboardist Paul Scherer is influenced by the synth harmonies of James Harris and Terry Lewis and that does the song apparently well. Singer Agnieszka Iwanska adds her poetry gently into the harmony and makes it to a work of art.
On Colors she follows the vibrations of Grace Jones. With a pinch of organ and Freddie Franken on guitar the song is going. On Sky it takes a little longer to become friends with the song, finally the professionalism of the musicians is essential. For Inspiration, the sonority of the instruments in addition to the melody is what wins through.
Paul Scherer, who found his passion in the past with albums like Nitemusik or Cosmik Kiss in the New Age genre, provides on Peace a jazzy framework, in which Agnieszka fits perfectly. The next tune Love is a good platform for Dave Schiff, who shines equally on flute and sax. The album is completed with the songs Mom and Better, that give musical expression of melancholy.
The album contains several songs, which were already published on the album All That I Am. However, it would be wrong to describe Colors as the second attempt. Singer Agnieszka Iwanska describes her style as jazz and soul and thus raises false expectations. Modern Pop is perhaps more appropriate to the performed music. The duo from Chicago has to create consequently its own market.




Buy the album in all stores

Album Information

Title: Colors
Artist: UroSoule
Year: 2013
Length: 0:40:48
Genre: Smooth Jazz


Tracks:

01 Desert Wind [5:50]
02 Colors [3:36]
03 Sky [5:42]
04 Inspiration [4:06]
05 Peace [4:54]
06 Love [4:17]
07 Mom [5:42]
08 Better [6:41]