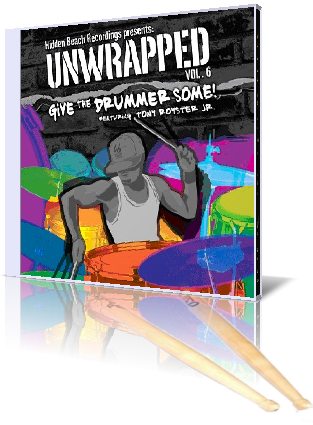 Hidden Beach Recordings has a golden hand in combining jazz with hip hop, rap and R&B. Their Unwrapped series has gained a solid place in the heart of many fans. Unwrapped Volume 6 - Give The Drummer Some! features drummer extraordinaire Tony Royster Jr., who is currently touring with Jay Z and has played with prestigious artists such as P. Diddy, T.I., Jay Holiday, and en Vogue. The album was produced by Tony and Brody Brown.
Tony Royster Jr. performed drums and drum programming, while Brody played keys and bass. Additional musicians are Kay-ta Matsuno (guitar), Jeff Lorber (keys), Dante Jackson (keys & programming), Cat Daddy (bass & bass programming), Johnny Britt (trumpet, flugelhorn), Tracy Carter (keys & programming) and Tommy Organ (guitar).
Unwrapped Vol. 6 covers 10 groundbreaking hits of the hip hop, rap and R&B scene with a smashing new approach. The album already received high acclaims at Amazon after the launch in November 2009. Unlike Vol. 1-4 Unwrapped Volume 6 and its predecessor Volume 5 don't stretch out to contemporary jazz. Keep in mind that most of the songs have nothing in common with jazz but offer unusual instrumental renditions on a very high level.
Blame It, taken from Jamie Foxx's third album Intuition (2009), finds a new grandiose installment on this album. The vocal part originally by singer T-Pain is replaced by a gorgeous distortion guitar. The bass is darker and Tony Royster Jr. bursts out with a superior drum beat.
Dragostea din tei (2004), better known as The Numa Numa Song or Ma Ya Hi, was an enormous successful single by the Moldovan pop group O-Zone in Europe. Live Your Life (2008) is an American adaption by rapper T.I. featuring Barbadian Pop singer Rihanna. Best set in sound on Unwrapped.
Lollipop from Lil Wayne's sixth studio album, Tha Carter III, features the late RnB artist Static Major. Cleansed of the vocals this version offers the pure melody, a keyboard blast! Every Girl by rap supergroup Young Money Entertainment from their debut collaboration album We Are Young Money is the ground melody for Tony Royster Jr.'s terrific drum solo.
Best I Ever Had from Canadian rapper Drake's EP, So Far Gone finds its equivalent on keyboards. This is a song with a certain appeal for smooth jazz fans. Single Ladies (Put A Ring On It), Beyoncé's expression of female empowerment is answered on this album by male vocals. Long live the effects of auto-tuned vocals. But always is the overdosed use of such effects somehow the contrary to alluring.
An instrumental rendition of Keri Hilson's Turnin' Me On reveals the hypnotic groove of this song. A flashback to the funk of Cameo or George Clinton is the cover of De La Soul's Me, Myself, And I. Renditions of Soulja Boy Tell 'Em's Turn My swag On and Craig Mack's Flava In Ya Ear are the final songs of this album. Johnny Britt's muted trumpet is just off the hook.
Hidden Beach Recordings' Unwrapped Volume 6 is certainly a turning away from the previous jazz infected hip hop of Vol. 1-4, but it's a comprehensible decision to blend more popular styles into the beloved and acclaimed Unwrapped series and I must admit, Tony Royster Jr. did a fantastic job!




Buy the album in all stores



Album Information

Title: Unwrapped Volume 6 - Give The Drummer Some Ft. Tony Royster Jr.
Artist: Various
Year: 2009
Length: 0:41:49
Genre: General Jazz
Label: Hidden Beach Recordings


Tracks:
01 Blame It [4:04]
02 Live Your Life [4:51]
03 Lollipop [4:10]
04 Every Girl [4:34]
05 Best I Ever Had [4:49]
06 Single Ladies (Put A Ring On It) bonus track [3:12]
07 Turnin' Me On [3:31]
08 Me, Myself, And I [3:22]
09 Turn My swag On [4:07]
10 Flava In Ya Ear [5:09]


More reviews: