| | |
| --- | --- |
| Archive | |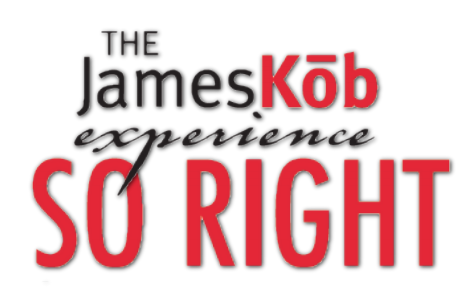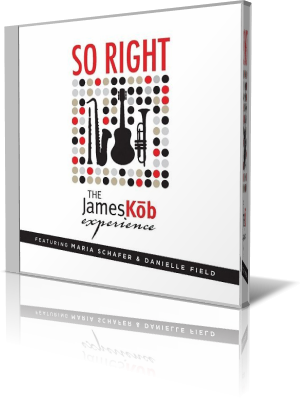 American composer, lyricist, arranger and producer James Kōb introduces himself to the smooth jazz genre with a personal mixture of Pop, Jazz, Bossa Nova and a little cinematic music. It's the James Kōb experience and the musical brain wave is entitled So Right.
His paradigm is, smooth jazz has to break out of a special instrumental formula. Mix-up the jazz genres a little bit to stay relevant in both instrumental, vocal and style to avoid to get homogenized. One can add to this, you should also go out of your own warm nest cave.
The participants James involved in his music are Maria Schafer, Danielle Field (vocals), Bobby Cruz (piano, strings), Tripp Sprague, Adam Schroeder and Alex Budman (sax), Ian Francisco (piano, strings), Dan Hall, John Leftwich (bass), Mark Haley (drums, bongos), Michael Smith (percussion), Eric Hughes, Steve Hughes (trombone), Jamie Hovorka, Kyle Palmer (trumpet), Rick Schimdt (guitar), and Lara Wickes (oboe).
A nice start offers the Bossa Nova song Because Of You featuring lovely singer Maria Schafer. A L.A. resident Maria is currently the voice of the famous Glenn Miller Orchestra. Always In The Summer presents her pure and genuine presence sharing the warm and distinctive feeling of late Karen Carpenter.
So Right shows a unique hybridization of Latin Bossa Nova and Pop with Maria's captivating cheerful vocals. Special Someone places us into the Country music with steel guitar in slide technic and Maria's specific intonation. When We Dream is a ballad which makes the listener ready to be taken away in it. A song of Broadway quality with an expansive orchestration.
You Belong To Me brings the dual relationship into the game again. Did I already mention Karen Carpenter? If I Could institutes another singer. Danielle Field is on the start of her vocal career. The combination with just the acoustic guitar and no other instrument, gives her the opportunity to exhibit the full range of her personal expressions. Get enchanted now and plunge into the wonderful world of creativity!
With Get Myself Together Maria counter-holds and guides us into some Summertime Gershwin style then turning the tempo to a more Pop oriented song. That way exchanges this piece its character to finally meander in Gill Castellanos' pristine solo play on flugelhorn. On I Know Maria shares the melody with Tripp Sprague on chromatic harmonica. Never Say Goodbye significantly shapes anew the country music style. Final tune is an instrumental version of Get Myself Together featuring Gill Castellanos as soloist on flugelhorn.
James Kōb hasn't promised too much with his announcement of expressive multiplicity of music styles. However, I do not share his understanding of smooth jazz. Which takes nothing away from the quality of his music.





Buy the album in all stores

Album Information

Title: So Right (Featuring Maria Schafer & Danielle Field)
Artist: The James Kob Experience
Year: 2016
Length: 0:56:25
Genre: General Jazz
Label: Broadcast Music


Tracks:
01 Because Of You [5:20]
02 Always In The Summer [6:12]
03 So Right [4:50]
04 Special Someone [3:40]
05 When We Dream [5:11]
06 You Belong To Me [5:43]
07 If I Could [4:17]
08 Get Myself Together [5:51]
09 I Know [5:08]
10 Never Say Goodbye [4:24]
11 Get Myself Together (Instrumental) [5:50]