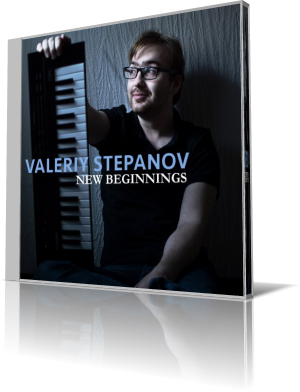 No matter how far away his musical kernel might be considered by the geographical standpoint. Lastly, the internet of things represents a fusion of the physical and digital, the real and virtual worlds. If an historical constant is to be defined in the relationship between Russia and the West, then it is the central role that the West, in all its many musical forms, plays in Russian view. Moscow based multi-instrumentalist Valeriy Stepanov is going West.
With New Beginnings (2017) Stepanov installs a shining beacon of smooth jazz, a statement of creative presence. Valeriy Stepanov performs on this album piano, Rhodes, Clavinet, organ, synth bass, drums, lead & background vocals, Doumbek, Pimak, claps, keyboards, programming & editing. He is joined on selected tracks by Vsevolod Guzov (cello & djembe), U-Nam (guitar), Marion Meadows (soprano sax), Albert Stepanov (bass and violin), Andrey Chmut (soprano sax, alto sax) and Borisbob Akhmetov (guitar).
What is a better starting idea than to infect people with your good mood? Valeriy takes it serious and offers with Happy People a fine bouquet of sparkling musical ideas to ease into your spring morning. This skillful effortlessness in the style of Brian Culbertson also plays a key role on Tonight featuring guitar hero U-Nam, who reinforces a groove attack that is cutting edge.
Walk in the Park catches and radiates the atmosphere, the light and mood in a wonderful bustling piano execution. Andrey Chmut continues the joyous ride on soprano sax pushing the harmonic envelope to the next level. On Twilight Sky Valeriy reveals more of his expressive technical proficiency full of rare energy.
Another approach, more romance! Look at the Stars with soprano saxophonist Marion Meadows and be enchanted. Alto sax player Andrey Chmut is more sassy on No Doubt Now and guitarist Borisbob Akhmetov is responding to the melodic flow. Snowbreeze is for all friends of the great L.A. synth sounds and crystal clear piano play. While Heartburn revives the groovy attitude of funkateers such as the GAP Band or Bootsy Collins.

In Common hits the musical sweet spot of all romantics and those in love. When you see a butterfly in its flight, you discover the unexpected, the fluttering. Butterfly is the sonic equivalent with a strong musical character. With Half Moon Stepanov reinvents the word synth fusion. Powerful, fresh, genuine. The album contains two edit versions of Happy People and Tonight. Final tune and bonus track is the title Lyn. The original was created by the jazz bass maestro Abraham Laboriel Sr. as a tribute to his wife. The striking ardent love finds a righteous reincarnation in Stepanov's interpretation.
Away from ordinary musical routine Valeriy Stepanov has created with New Beginnings a unique treasure of sonic vitality and diversity. A dark horse candidate for the best album of the year.