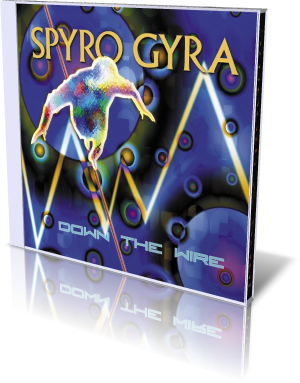 Some groups become famous with one huge hit. For Spyro Gyra was the initiation their song Morning Dance, released in 1979. Since that time they constantly extended their position as one of the premium contemporary jazz group worldwide. Their new album Down The Wire is according to their website the 31st. Signed in 2001 with Heads Up International the group released in the following period In Modern Times (2001), Original Cinema (2003), The Deep End (2004), Wrapped In A Dream (2006), Good To Go-Go (2007) and A Night Before Christmas (2008).
Today's Spyro Gyra are alto saxophonist, songwriter & founding bandleader Jay Beckenstein, keyboardist Tom Schuman, guitarist Julio Fernandez, bassist Scott Ambush, and since 2007 drummer and percussionist Bonny B. Jay Beckenstein considers his work as something special: "When I'm making music with the band and things are going well, I leave the anxiety behind. I escape that part of me that's just trying to survive in the world and I'm able to get in touch with that part of me that has nothing to do with practicality. It's something that's kind of divine, and I don't normally think in those terms, but it's as close as I can get to that ideal. I really do get swept away in it and it's a marvelous, spiritual, therapeutic thing."
Down The Wire is not only available on prescription. I would never say no to this musical remedy. So the album starts with Scott's precise bass intro leading to Jay's spiritual sax sequence. Here we are again right in contemporary jazz. Jay: "When you're improvising in front of a crowd, you're really walking down that wire."
On Unspoken returns percussionist Gerardo Valez to the group for a guest appearance, who left Spyro Gyra in the mid 80's. The slow tempo tune grooves following the leading melody sensitively interpreted by Jay Beckenstein. This is a jazzy version inspired by Morning Dance and Latin rhythms.
Not For Nothin' shows more of the ambivalence of the group. The first part is settled in cjazz while the second part has strong Rock elements seamlessly melted. Island Pond is a slow-tempo tune with a nice flow. Just for relaxation.
The Tippin' Point co-written by Beckenstein and Schuman fills the gap to the jazz side with a traditional swing. The power of fusion jazz is showcased in Ice Mountain. Fresh, vigorous, onomatopoeic and spectacular in the first part, melodious in the second part.
For friends of the fretless bass Scott Ambush penned A Flower For Annie Jeanette. After Scott's delicious intro Jay defines sweetness in his own way, before Scott takes the lead role again giving the torch further to Tom. "That's what has kept this band going," says Beckenstein. "There are always balances to be found – between the individual player and the group, between the songwriter and the player. It's about both satisfying yourself and satisfying your audience." Sharing the weights is a great plus of the band.
La Zona Rosa walks into the area of Salsa. This tune is the platform of percussionist Marc Quiñones, a former member of the group and now part of the Allman Brothers band. Jay Beckenstein receives also great support by the horn section, the brothers Don (trumpet) and Bill (sax and flute) Harris and Ozzie Melendez (trombone).
What It Is a forced ride through jazz fusion while A Distant Memory offers more of the mellow side of the group with Tom's lush piano play. When you missed Boney B's influence on this album you will be satisfied with his jazzy scat song on Make It Mine. Funky, funky.
Spyro Gyra are the lighthouse of contemporary jazz. For all fans of cjazz a safe harbor in the branding sea of changing genres.

Spyro Gyra

website




CD available on

Further reviews


Title: Down The Wire
Artist: Spyro Gyra
Year: 2009
Length: 1:05:21
Genre: General Jazz
Label: Heads Up International


Tracks:

01 Down The Wire [5:58]
02 Unspoken [5:52]
03 Not For Nothin' [5:03]
04 Island Pond [6:00]
05 The Tippin' Point [5:24]
06 Ice Mountain [6:58]
07 A Flower For Annie Jeanette [7:06]
08 La Zona Rosa [6:23]
09 What It Is [6:24]
10 A Distant Memory [4:43]
11 Make It Mine [5:31]