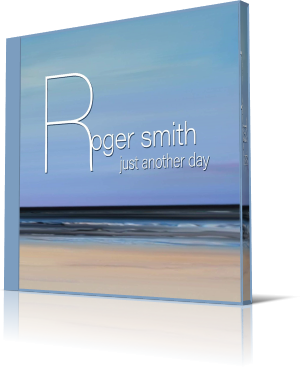 Most people interested in music will only know keyboardist Roger Smith as a member of the world-famous formation Tower Of Power. Thereby he can look back on a veritable discography of solo albums. My Colors (1996), Both Sides (1999), Consider This (2000), Just Enough (2004) and Sittin' In (2008) are his smooth jazz albums, while his side projects Rosco's Place I and II cultivate the field of jazz.
This month Roger releases his new album Just Another Day, again a successful blend of R&B and smooth jazz. Roger plays on the album on different tracks among others piano, bass, drums, organ, Fender Rhodes, synth bass and keyboards. He receives musical backing from singers Rachel Santos, Julie "Julu" Morris, Tony Lindsay, Kumandae Miller, Jazz Rosco, Terrell Carter, Mark D. Scott and the instrumentalists Derek "DOA" Allen (bass, keyboards, guitar, string arrangement, Moog), Jeff Tamelier, Andrew Fowler, Michael "Big Mike" Hart Jr. (guitar), Tito Abraham (congas), Darius "DaBaBa" Babazadeh (alto saxophone), Robbie Kwock (trumpet), Jim Morris (bass, guitar, lead vocals), Kyron Kerby, David Garibaldi (drums), Mic Gillette (trombone and trumpet), Tom E. Politzer (alto, tenor and baritone saxophones), and Bill Ortiz (flugelhorn).
The group is waiting in the wings with the title song. A jazzy ballad, which not only gives the enchanting singer Rachel Santos the opportunity to reveal the innermost part of her soul, but also to intonate jazzy tones with the finest instrumental accompaniment.
El Chito has the character of an instrumental interlude with Latin flavor. There Is No Love is a soulful ballad with a deep bluesy approach interpreted by Jimi Morris, who with his smoky voice provides an authentic timbre. Quick And Easy is the aptly description of this swinging tune featuring Darius "DaBaBa" Babazadeh on sax, Andrew Fowler on guitar and Roger Smith on organ in full action.
On South Side Of Heavy Roger presents with vocalist Tony Lindsay, one of the most famous members of the group Santana. A song that brings out the potential of this great singer to the fullest. Party Up is unleashed entertaining funk with the unparalleled voice of John Rosco.
Roger invited for the tune Bella another member of the group Santana, the unbelievable great Bill Ortiz on flugelhorn. A master of his instrument, Bill unfolds the entire beauty of this piece. On Second Wind, the late George Duke would have his true joy. Derek "DOA" Allen gives a flashing Moog solo and singer Marcus D. Scott keeps the fire burning ignited by Tom E. Politzer on sax.
Roger Smith's album Just Another Day is admittedly of short playing time but entertaining. Keep it short and sweet. According to this motto, one winner follows another. What more could you want in our fast-paced world?





Buy the album in all stores



Album Information



Title: Just Another Day
Artist: Roger Smith
Year: 2019
Genre: Smooth Jazz
Label: Independent

Tracks:

1) Just Another Day (5:51)
2) El Chito (3:34)
3) There Is No Love (2:26)
4) Quick And Easy (5:45)
5) South Side Of Heavy (5:28)
6) Party Up (3:41)
7) Bella (5:23)
8) Second Wind (4:53)







Further reviews: