| | |
| --- | --- |
| Archive | |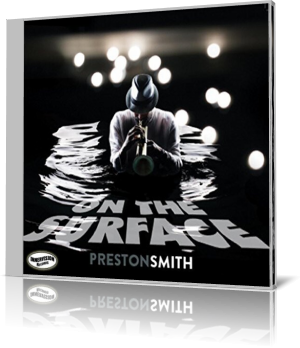 Sometimes you only need seconds to recognize that you listen to good music. Houston based trumpet player Preston Smith makes it easier for you. On The Surface (2017) has all ingredients making music to a fantastic experience.
Equipped with a bachelor of arts in music performance and masters of music he performed in different states, bands and genres. His solo career started with One Night Stand (2002), followed by In The Cool (2003), Beneath The Surface (2015) and finally his debut album on Innervision Records On The Surface.
Preston performs on his new album trumpet, trombone and flugelhorn. The impressive army of supporting musicians consists of Danny Kusz, Kyle Turner, Dean James, Will Fortune, Tony Exum Jr., John Lyons, Phillip "Doc" Martin, Theresa Greyson (sax), Ernie Wells, Darryl McCoy Jr., David P Stevens, Lucious Hoskins (guitar), Cory James, Roderick Allen (piano and bass), John Fontenot (drums), Andre Hayward (trombone), Althea Rene (flute), Shonnie Murrell (percussion), Frank McComb (various instruments), and Kiland (piano, Rhodes, organ, strings, percussion).
The album starts with Meatballin'. Don't ask me about the meaning of this term. It's certainly not for vegetarians. This tune is energetic, powerful, horn laden and pushing the limits. You know, the last part is where the magic happens.
Wondering is the aptly title of a little gem of musical preciousness. A melody of timeless beauty, a supreme arrangement, professional and passionate musicians, Althea Rene on flute included. Stated in a nutshell: This tune is worth to buy the whole album. Two words, funk and horns. These are the main factors of I Funked It Up with great interactions of the horn players. Naturally is the natural-born synthesis of voice and instruments featuring the wonderful vocalist Shonie Cooper in a superb blend with the blasting horn section of Preston and Theresa Greyson.
That Smile sparkles like a firework. A fantastic horn connection in the style of Tower of Power or East Bay Soul featuring Preston Smith (trumpet, flugelhorn), Will Fortune (alto sax), Kyle Turner (tenor sax), Andre Hayward (trombone). Produced, arranged, tracked and mixed by Frank McComb, who also plays all other instruments. Cory James creates an evocative rework of the Gershwin classic Summertime featuring singer Antoinette Roberson in a prominent role.
On Highway 59 Preston traces with his horn the long course of the road which seems to be lost in infinity. A collaboration with Kiland, who co-wrote the tune and performs most of the instruments. In The Pocket starts with a tremendous horn injection before David P Stephens takes over the lead on guitar in familiar sovereignty. Stanley Turrentine's Sugar, a great momentum in jazz history, is reinvented by Preston and Cory James with nuanced finesse and transformed to a modern format. On Endless Melodies guitarist Darryl McCoy Jr. shines with a blistering performance.
With On The Surface Preston Smith is no longer under the radar of the smooth jazz community. His new album is a mesmerizing overture to a new era, the time of Preston Smith.




Buy the album in all stores

Album Information

Title: On The Surface
Artist: Preston Smith
Year: 2017
Genre: Smooth Jazz
Label: Innervision Records


Tracks:

1 Meatballin' (featuring Danny Kusz) 03:49
2 Wondering (featuring Althea Rene') 03:13
3 I Funked It Up 03:33
4 Naturally (featuring Shonie Cooper & Theresa Grayson) 04:13
5 That Smile (featuring Frank McComb & Kyle Turner) 04:14
6 Summertime featuring (Antoinette Roberson & Tony Exum) 03:34
7 Highway 59 03:36
8 In The Pocket (featuring David P Stevens) 03:56
9 Sugar (featuring Phillip "Doc" Martin) 03:42
10 Endless Melodies (featuring Darryl McCoy jr.) 03:45
11 Wondering 03:35