| | |
| --- | --- |
| Archive | |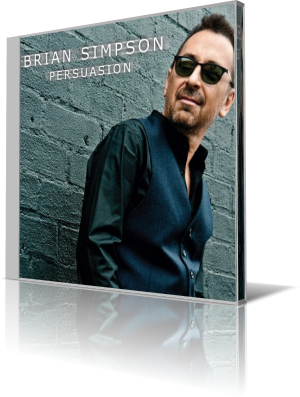 Hailing from Gurnee, Illinois keyboardist Brian Simpson took the smooth jazz scene by storm with his solo albums Closer Still (1995), It's All Good (2005), Above The Clouds (2006), South Beach (2010), and Just What You Need (2013).
His new project Persuasion was released in November, 2016 on Shanachie Entertainment. Simpson is joined by a star-studded crew: Boney James, Steve Alaniz (sax), Peter White, Steve Oliver, Darrell Crooks, Kendall Gilder (guitar), Alex Al (bass), Ramon Yslas (percussion), and Omari Williams (drums).
The first track is entitled Persuasion and encompasses the critical power of Boney James, Alex Al and Ramon Yslas. Enough to convince every listener to buy this gorgeous piece of music. The first single of the album is however Wonderland, which Brian co-wrote with guitarist Steve Oliver. The song has a specific winter wonderland appeal with an expanding of sensitivity beyond the limits of audio perception.
Sax and piano are the most expressive instruments, which comes closest to the human voice and masterfully meet every emotional and sensitive requirement of a romantic composition like One And Only. Steve Alaniz on sax and Brian Simpson on piano are irresistible and forcefully in their mission.
Lost In Love presents Peter White on acoustic guitar with finely chiseled tones. This guitar legend and Brian on piano create an immaculate piece of music art which seems more divine than earthy. Need You Now comes musically completely different with a piano driven melody based on Steve Oliver's cool synth layer. Supernatural opens another sheet music flirting with Country music crossing the border to Rock.
Take It Up is a coherent piece with a high addictive factor. Give King Simpson the melodic crown. And because this principle works so well, Brian continues with the spacy Starbound. Surreal Theme draws its tension from the contradiction between ambient piano lines and percussion filled atmosphere. Enjoyable clean air and the morning birdsong heard from the nearby woods makes an ideal place for a pleasant and relaxing vacation. With Always Here For You Brian writes the final track for your personal recreation.
Keyboardist Brian is since decades a reliable supplier with proven history for melodies of timeless beauty and elegance. With Persuasion he serves a new engaging release with the same shining brightness of his earlier works.




Buy the album in all stores

Album Information

Title: Persuasion
Artist: Brian Simpson
Year: 2016
Length: 0:43:04
Genre: General Jazz
Label: Shanachie Entertainment


Tracks:
01 Persuasion (Featuring Boney James) [4:26]
02 Wonderland [4:08]
03 One And Only [3:45]
04 Lost In Love (Featuring Peter White) [4:45]
05 Need You Now [4:34]
06 Supernatural [4:06]
07 Take It Up [4:07]
08 Starbound [4:47]
09 Surreal Theme [4:17]
10 Always Here For You [4:08]



Further Reviews:

South Beach

It's All Good

Just What You Need