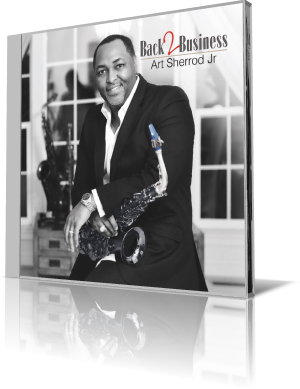 Saxophonist Art Sherrod Jr. is influenced by David Sanborn, Kirk Whalum, Gerald Albright, Kim Waters and other professional sax men of the smooth jazz genre. This includes admiration for their virtuosic art and their spiritual behavior.
His debut project All 4 Love was released in 2005. After signing to Pacific Coast Jazz followed his second project Seasons in 2009. With Intervention (2016) he released after two smooth jazz albums his first Gospel project. Back 2 Business (2017) is his fourth release and a return to the smooth jazz genre.
Art is joined by a crew of top professional musicians such as Chris "Big Dog" Davis (keyboards, programming), Rohn Lawrence, Robert "WaWa" LeGrand (guitars), Asa Livingston and Corey Baker (bass), Salena Dunbar Gibbs, Anthony Buffy Burnett, Dawn Tallman, Lamone Andrews, Tiffany Tzelle (background vocals).
With a producer like Chris "Big Dog" Davis, one of the busiest in smooth jazz, one plays it safe in that way. Art keeps it all from going up in smoke with Tighten Up. Top Down loves it smooth with the soprano sax as chosen lead instrument.
Jesus is Love is a song by Lionel Richie (Commodores) from the album Heroes (1980). Art emphasizes the Gospel character of the song with organ and a wonderful choir. This Place Hotel (aka Heartbreak Hotel) by Michael Jackson was in 1980 a huge hit of the Jackson 5. Art gives the composition new life in an innovative powerful transformation.
Side Step integrates melody and atmosphere with a hip hop beat pushing the sound into new territory. So in Love is a song by American R&B/soul singer Jill Scott, taken from her fourth studio album The Light of the Sun (2011). The song features Anthony Hamilton in a fascinating duet. On his rendition Art finds the intense lyrical sweet spot and creates the corresponding harmonic presentation.
Change the Key has that certain something, that makes this composition so radio-like. Chris "Big Dog" Davis creates a wavy keyboard rhythm with a rich finesse building the hypnotic frame for Art's melodic exploration. I Like It, a 1982 Motown song by American family band DeBarge has the necessary patina to be selected by Art as next cover. A piece that you hear with your hips and feel with your feet.
The song Wishing on a Star was written by Billie Rae Calvin and was first released by Rose Royce in 1977. The potential of the song is so immense, that stars like Beyonce, Jay Z or Randy Crawford have created their own visions. Art is welcoming everyone along for his personal journey. The final Love's Atmosphere follows the mellifluous intention shining through the title.
Back 2 Business is Art Sherrod's creative apex of his stellar career with a well-balanced mixture of old and new combined with an eclectic variation in presentation, leaving you fully satisfied.