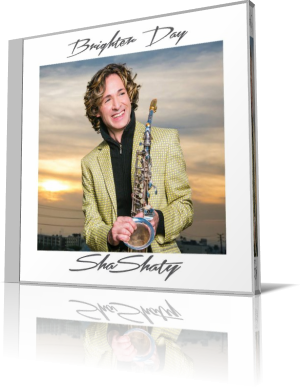 Just appeared on my radar screen is saxophonist ShaShaty. He started his solo career with his self-titled debut album in 1993, followed by Voices In My Head, From Me to You (2008), Come Together (2011), and It's My Pleasure (2013). His 6th album Brighter Day will be released on March 3, 2015.
The album was produced by Steve Oliver, who also plays guitar on all tracks and composed several of the songs. Guest musicians on selected tracks are Will Donato (sax), Bonny B (drums), Gary Stanionis (percussion), and Usay Kawlu (vocals). ShaShaty shows his skills on tenor, alto and soprano sax, piano and synth programming.
Dream Ride is the positive overture of the album. Will Donato supports ShaShaty's lead sax with a sophisticated horn arrangement. Let's Go! takes off with a jazzy groove that is heated vigorously by Bonny B on drums. Song of Hope features the lovely Taiwanese vocalist Usay Kawlu. A remarkable airy voice.
Late On 91 begins with a simple melody, but Boney B's drummer art makes it to an interesting listening experience. Count My Heart Yours to the musical tribute for all lovers of romance. Mumbai allures with an exotic oriental touch. A Million Miles occurs in competition in matters of romance. Usay Kawlu adds a breath of her voice to ShaShaty's saxophone.
ShaShaty soprano saxophone's is also the focus from August. At loveliness I'm Always Near is a highlight of the album. The title song is usually the strongest piece of music. ShaShaty doesn't disappoint us here. A rousing song with hit potential. Float Away impressed with marked contemplation.
ShaShaty prefers on his album Brighter Day the gentler tones. Therefore the album is recommended for thoughtful hours of cheerfulness.


Buy the album

Album Information