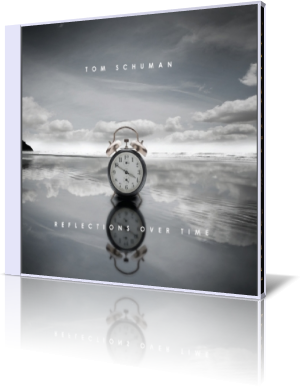 Tom Schuman is widely known as keyboardist of the famous group Spyro Gyra, one of the most popular contemporary jazz groups. Morning Dance, released in 1979, became a Top 40 single hit and proved to be their breakout song. With more than 26 albums on their credit this group is a constant factor in the contemporary jazz scene.
Tom has performed on all of Spyro Gyra's albums to date and has written or co-written over thirty-five compositions for this formation. But his creativity doesn't stop at this point. He started his solo career with his contemporary jazz debut Extremities (1990), followed by the more jazz inspired album Schuman Nature (2003), and the smooth jazz albums Into Your Heart (2003) and Deep Chill (2005). In which direction does his new album Reflections Over Time go?
Tom answers: "The best way I can describe this CD is an eclectic blend of many genres of jazz music from classic to fusion and beyond. Jay Beckenstein heard the first cut which is a tribute to the late great Joe Zawinul, "A Quote From Mr Z", and had to have it in our current set. We now open the Spyro Gyra show with it."
The album features Bonny B, Kevin Stixx Marshall and Ludwig Afonso on drums, Ameen Saleem (upright bass on Giant Steps), Jay Azzolina, Alvin White, David Becker and Andy Wasson on guitars, Skip Martin on trumpet, flugelhorn and vocals, Julian Tanaka on tenor and soprano sax. Tom plays keyboards and introduces his alter egos Schu Thomas on bass and Slide Funkshin on drums/percussion.
Music is a holy thing, A Quote From Mr Z. The first tune is dedicated to the grandmaster of fusion music, Joe Zawinul. Sennie "Skip" Martin (muted trumpet) and Tom Schuman (Rhodes piano) are on the path of Joe's blessed genius and musical visionary. Hailing from fusion jazz Seven 4 You soon meanders in melodious streams.
How to describe the beauty of a wonderful piece of music? Sofia's Eyes is Tom's suggestion and Jay Azzalina paints the color of these eyes with his acoustic guitar. Tom fills Jay's lines with more brushstrokes to finish the portrait of loveliness. When precise drum beats and keyboard hits melt into one rhythm, then you know that Tom Schuman is still infected by Joe Zawinul. Reflections Over Time is a perfect assimilation of Joe's spirit. Julian Tanaka adds the transcendental sax flow.
Lovers of horn driven music in the style of Tower of Power, East Bay Soul or EWF should give Hooked On Rockin' a listen. Andy Wasson's skillful guitar riffs introduces to Julian Tanaka's impressive sax explosion before he takes the powerful lead again. If you got time but no budget for moving to romantic destinations then Follow Your Heart. Tom Schuman's idea and realization of romance.
I already viewed the video of When! several months ago and was immediately hooked by Skip's Martin's performance. Tom's intro to Skip's song is on the same high level of fascination. Tom has expanded this intro in comparison with the video version. When! is certainly the best track, Tom can choose for single and radio-edit.
God Please Bless America is Schuman's musical journey into America's history with sound samples of popular political and social personalities. Dat's Wassup! features anew Sennie "Skip" Martin, lead singer of Kool and the Gang and the Dazz Band, this time on trumpet and Flugel horn. His own instrumental album Skip Away (2006) is still available at CDBaby.
On Giant Steps Tom surprised the audience with an outburst of straight jazz, John Coltrane's classic originally written for tenor saxophone and transferred by Tom Schuman to piano. A rapid progression of chord changes that progress through three keys. A video of the notes is to find at Youtube. The album closes with the cordial ballade I Still Miss You featuring Skip Martin in his prominent role as lead singer.
Reflections Over Time is Tom Schuman's personal way to contemplate about his own impressions as human and musician. It's a splendid mirror of the contemporary music, Tom is currently focused on. A valued and appreciated addition to his discography.





Buy the album in all stores

Album Information

Title: Reflections Over Time
Artist: Tom Schuman
Year: 2010
Length: 0:54:30
Genre: General Jazz
Label: Jazz Bridge Music


Tracks:

01 A Quote From Mr Z [4:47]
02 Seven 4 You [4:28]
03 Sofia's Eyes [6:21]
04 Reflections Over Time [4:53]
05 Hooked On Rockin' [5:11]
06 Follow Your Heart [4:42]
07 When! [5:01]
08 God Please Bless America [5:19]
09 Dat's Wassup! [5:10]
10 Giant Steps [4:55]
11 I Still Miss You [3:42]

Further reviews