| | |
| --- | --- |
| Archive | |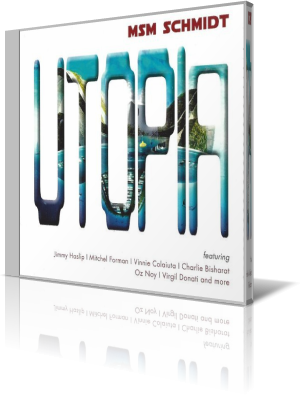 Composer and producer Michael Schmidt (aka MSM Schmidt), based in Bremen, Germany works in his day job at a large insurance firm, in his leisure time he fulfills his musical dreams in the jazz fusion and contemporary jazz genre. A long time he played in bands as drummer before he decided to concentrate on composing.

Through the German drummer Wolfgang Haffner he came in contact to many supreme artists of contemporary jazz. So he finally started to record the music he loves with the who-is-who of the scene. After his debut album Arrival (2003), he released Transit (2007), Destination (2009), Evolution (2012) and this year Utopia. Mitchel Forman performs on all albums, has moreover elaborated the arrangements and polished the pieces to perfection.

On the new album perform Charlie Bisharat (violin), Rick Braun (trumpet, valve trombone),Till Brönner and

Barry Danielian (trumpet), Vinnie Colaiuta, Virgil Donati and Wolfgang Haffner(drums), Luis Conte (percussion), Brandon Fields (soprano, alto, tenor saxophone), Nicolas Fiszman and Jimmy Haslip (electric bass), Mitchel Forman (piano, synthesizers), Bruce Fowler and Clark Gayton (trombone), Walt Fowler (trumpet, flugel horn), Bob Franceschini (tenor saxophone, trombone), Randy Hoexter (synthesizer), Scott Kinsey (Fender Rhodes, synthesizer), Chuck Loeb, Oz Noy, Jeff Richman and Mike Miller (guitar), Jeff Lorber (Fender Rhodes), Eric Marienthal (alto saxophone), Bob Mintzer (tenor saxophone), Alan Pasqua (piano), and Steve Weingart (synthesizer). Jimmy Haslip and Mitchel Forman produced the new album.

Paranormal Activity is the starting point of the album. The dynamic melody is pushed by saxophonist Eric Marienthal and Bob Mintzer while the synth crew by Randy Hoexter, Scott Kinsey and Michael Schmidt deliver the atmospheric environment. Vinnie Colaiuta and Jimmy Haslip serve the rhythm section. Stylistically, the music is settled in the direction of Weather Report.

Qin Shi - The Face On The Wal offers an exotic mix of jazz and rock with solo parts of pianist Alan Pasqua, violinist Charlie Bisharat, trumpet player Rick Braun and guitarist Oz Noy. If comparisons is allowed, Bisharat's interpretation is similar to jazz-rock fusion violinist Jean-Luc Ponty or jazz violinist Stéphane Grappelli. In between there are also melodious sections in contrast to the more edgier rock intrusions.

Orbit is the formation of explosive atmosphere and source for solo ignitions of Brandon Fields on soprano sax, Oz Noy on guitar and Mitch Forman on piano. Lv-223 (Virtual Donati) is strong stuff for all players. A heavy loader for solos beyond the usual harmonies. Experience has shown that something to relax occurs after such a storm of solos. Not with MSM Schmidt. He mixes on The 5th Element essentials of harmonies with those of jazz rock dissonants.

On Hymn Of The Seventh Dwarf he concedes Bisharat great space for his violin. The theme walks to Mitch on piano, further through brass by Gayton, Francescini and Danielian, meanders in Schmidt's synth, falls into Oz's guitar and pass that way the complete band. Heavy monster jazz rock. The Cosmic Swing Theory features the complete band Metro. If you consider that the band has recorded nothing new since their album Express in 2007, this is a remarkable event.

Si Kitu (Mistress Of Entropy) is an homage to the "Perry Rhodan" science-fiction series. Michael describes the tune as three-part musical suite consisting of a jazzy intro, a grooving midsection and a heavy-rocking finale. The musical style can be illustrated with Pat Metheny meets King Crimson. From these jazz rock fields we arrive to Lorber's Groove. This Latin rhythm driven piece of jazz fusion is extremely compact compared to the previous tracks and presents the musical exclamation mark of this grandiose album.

Michael Schmidt is the guardian and sustainer of jazz rock. His challenging compositions drive the musicians involved in sweat and enthusiasm. The work and passion of a music lover, who can indulge away from the music business to the fullest his art.






Buy the album

Album Information

Title: Utopia
Artist: MSM Schmidt
Year: 2015
Length: 1:13:01
Genre: General Jazz
Label: Laika Records


Tracks:
01 Paranormal Activity [6:25]
02 Qin Shi - The Face On The Wall [9:37]
03 Orbit [7:35]
04 Lv-223 (Virtual Donati) [9:21]
05 The 5th Element [7:41]
06 Hymn Of The Seventh Dwarf [10:26]
07 The Cosmic Swing Theory Featuring Metro [7:58]
08 Si Kitu (Mistress Of Entropy) [9:28]
09 Lorber's Groove [4:30]