| | |
| --- | --- |
| Archive | |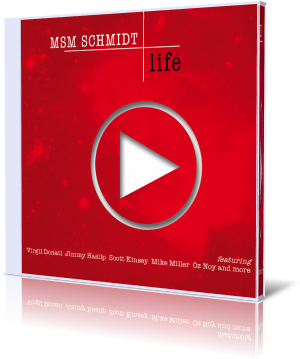 Composer and keyboardist Michael Schmidt

longs for the golden era of fusion jazz, dominated by such groups as Mahavishnu Orchestra, Return To Forever and Weather Report. Famous names like Chick Corea, John McLaughlin, Joe Zawinul, Jimmy Haslip or Jeff Lorber have inspired this musician. Although he does not reach the level of popularity of these music titans, he has made a name in the field of fusion jazz through a variety of high-quality record releases.

With every release, he manages to gather around an illustrious band of top musicians who perfectly realize his idea of fusion jazz. On his new album Life (2017) are to find Dave Weckl, Allan Holdsworth, Scott Kinsey, Jimmy Haslip, Katisse Buckingham, Gary Novak, Andy Snitzer, Scott Kinsey, Mike Miller, Ruslan Sirota, Virgil Donati, John Daversa, Andy Milne, Jost Nickel, Mike Miller, Steve Tavaglione, Jerry Goodman, Oz Noy, Jost Nickel, Mitch Forman, Brandon Fields, Bob Mintzer, Bruce Fowler, Walt Fowler, Charlie Bisharat, MonoNeon, Larry Koonse, and Sophia Wackermann. Michael Schmidt performs on all tracks synths and sequencing.

The album was produced by bassist Jimmy Haslip, who was also involved in Michael's previous projects. Michael chooses the quick start with the virtuoso piece Trance, which gives the participating musicians the opportunity to fully unfold their potential. With drummer Dave Weckl, late guitarist Allan Holdsworth, keyboardist Scott Kinsey, bassist Haslip and saxophonist Katisse Buckingham has this formation the fire power of the above cited jazz fusion groups.

Saudade (Portuguese) is a deep longing for an absent someone or something that one loves. Saudade City is the inner capital of this longing and a reminder of what true artistic jazz interpretation is all about. With the exploding drummer Virgil Donati, the outstanding trumpet player John Daversa, the expressive keyboardist Andy Milne and the impeccable guitarist Allan Holdsworth Vista evolves into a cabinet piece of fusion jazz history.

A handpicked team of top musicians creates the title song, a filigree fusion jazz tune of intense presence. Red and Gold is a jazz fusion piece that tends more in the field of jazz rock thanks to the guitar solo of Oz Noy. Exodus refers thematically to the historical biblical event with oriental sound formations. Another vibrant approach to a mélange of fusion jazz and jazz rock featuring A list musicians of the fusion jazz scene.

Rush drives fusion jazz to the edge with the pulsing bass of Dywane Thomas Jr., also known as MonoNeon, a former member of Prince's band and Dave Weckl on drums. The syncopated improvisations are developed by Ruslan Sirota on Rhodes and Larry Koonse on guitar with a short bass solo by MonoNeon. Medusa is the legendary figure with the deadly gaze and serpentine head of Greek mythology. Oz Noy leaves a personal mark on this tune with his distorted guitar.

Michael Schmidt fires Re Start with creativity, dynamism and excellence. Andy Snitzer on soprano saxophone and guitarist Oz Noy give the piece the necessary original wort. The album is finished by a short version of the title song.

The CD comes with a booklet containing a remarkably comprehensive description of the individual pieces by Bill Milkowski (Downbeat).

Michael Schmidt has delivered with Life an incredible masterpiece of musical excellence, which is unrivaled in the field of fusion jazz. It is becoming apparent: To be involved in Michael's projects, is a knighthood for all musicians.




Buy the album in all stores

Album Information

Title: Life
Artist: MSM Schmidt
Year: 2017
Genre: Contemporary Jazz
Label: Laika Records


Tracks:

1 Trance (feat. Dave Weckl, Allan Holdsworth, Scott Kinsey, Jimmy Haslip & Katisse Buckingham) 6:01
2 Saudade City (feat. Gary Novak, Andy Snitzer, Scott Kinsey, Mike Miller, Ruslan Sirota & Jimmy Haslip) 7:32
3 Vista (feat. Virgil Donati, Allan Holdsworth, John Daversa, Andy Milne & Jimmy Haslip) 8:19
4 Life (Long Version) [feat. Jost Nickel, Mike Miller, Steve Tavaglione, Jimmy Haslip & Sophia Wackermann] 8:11
5 Red and Gold (feat. Virgil Donati, Ruslan Sirota, Jerry Goodman, Oz Noy & Jimmy Haslip) 6:19
6 Exodus (feat. Jost Nickel, Mitch Forman, Mike Miller, Brandon Fields, Andy Snitzer, Bob Mintzer, Bruce Fowler, Walt Fowler, Charlie Bisharat & Jimmy Haslip) 6:59
7 Rush (feat. Dave Weckl, MonoNeon, Ruslan Sirota, John Daversa & Larry Koonse) 7:19
8 Medusa (feat. Virgil Donati, Scott Kinsey, Oz Noy & Jimmy Haslip) 7:39
9 Re Start (feat. Gary Novak, Oz Noy, Andy Milne, Andy Snitzer & Jimmy Haslip) 6:45
10 Life (Short Version) [feat. Jost Nickel, Mike Miller, Steve Tavaglione, Sophia Wackerman & Jimmy Haslip]5:29