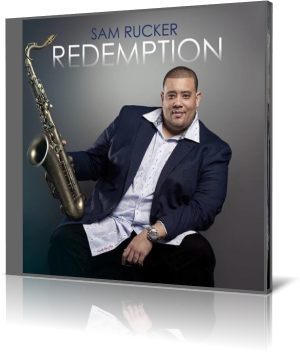 Virginia-based former Hip-Hop producer and saxophonist Sam Rucker started his solo career with Heat from the Heavens in 2011, followed by Tell You Something (2014) and now Redemption, which will be released August, 2018.

Sam has written, produced and arranged all songs and performs alto, soprano and tenor sax. He is joined on selected tracks by Lucy Kilpatrick (piano and strings), Carlton Savage, John Callisto (guitar), Steven Kroon (percussions), Donnell Smith (bass), Wanda Jay, Sheila J. Madanat, Joselyn Best. J. Regina Blackwell (vocals). J.P. Lilliston (drums), and Justin Taylor (acoustic guitar).

Down On The Inside introduces into the album with a programmatic launch connecting smooth jazz with a wonderful R&B flavor. The conscious renunciation of professional programmers, the reflection on his own style and the restriction to a small circle of musicians from his personal environment are the three pillars on which Sam's album is based.


True Love
internalizes musically a deep emotionality, which reaches the listener vocally as well as instrumentally.
Overcomer
is an outstanding example of perfectly arranged overdubbing.
Nothings Too Hard
is a slow jam that wraps up with sweet and soulful playing. With rich and vibrant tonality Rucker captures the listener on
Redemption
. Sam comments: " I feel spiritually, physically, emotionally and materially redeemed."
Forever Forgiven
showcases the sweetness of Wanda Jay's vocals with an enhanced glimmer of Gospel.
Follow Me
is a sensible duet between Sam and Lucy Kilpatrick on piano. With eloquence scooped from multilayered sax Sam creates his branded style.
I Am With You
competes self-confidently with its enchanting character with the music of Kenny G.
Just as the twigs branch out of a main trunk,
Throwback
's melodies develop into numerous small meanders. With
Please Child
Sam takes a look into the realm of Urban Hip Hop.
Singer J. Regina Blackwell is his congenial companion on the street of melody.

Sam Rucker rejuvenates with his album Redemption the extremely present saxophone music in smooth jazz. New impulses are gratefully accepted like rain on desiccated earth.